AccessAble launches new App and website at Aberystwyth University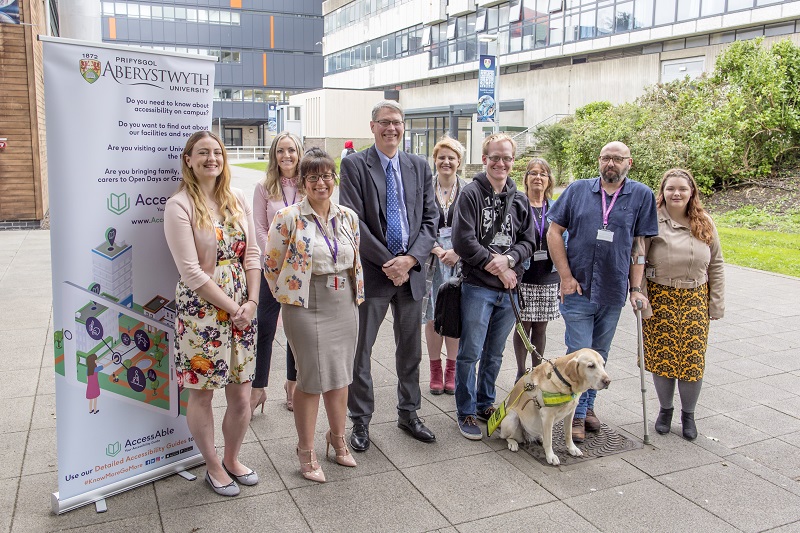 Staff and students of Aberystwyth University launching the new AccessAble App and website
On Friday 5 October, AccessAble launched its new App and website at Aberystwyth University.
AccessAble, formerly known as DisabledGo is a leading provider of accessibility information for disabled people in the UK, and is currently working with University on a comprehensive new resource that will enhance the experience of disabled visitors on campus.
The online guide for students, staff and visitors will be ready in early 2019 and will allow visitors to campus to find out about the access to all of the University's buildings and services.
Commenting on the new partnership, Professor Tim Woods, Pro Vice-Chancellor, Learning, Teaching and Student Experience said:
"We aim to provide all students with an experience of the highest quality, and to make our academic facilities available to all who meet our entrance requirements. This means ensuring our curriculum and our campuses are as accessible as possible. We are committed to making continuous improvements in this area and are pleased to be working in partnership with AccessAble so that professionally-assessed access guides to our campus facilities will soon be freely available online."
Anna Nelson, Executive Director of AccessAble said:
"We are delighted to be working in partnership with Aberystwyth University to produce Detailed Accessibility Guides to everywhere on campus. Aberystwyth is part of a trailblazing group of universities in Wales, who recognise how vital accessibility information is for disabled students and those with access requirements. Our initiative is all about removing barriers to higher education and improving the student experience. I hope that other universities across the country will see this initiative as a demonstration of best practice."