Nominations for Honorary Awards sought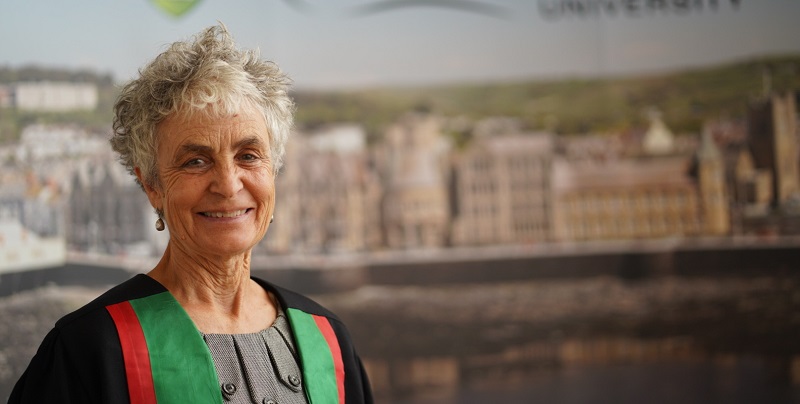 Actor, singer and former mayor of Aberystwyth, Sue Jones-Davies, was awarded an Honorary Bachelor of Arts Degree in 2018.
Aberystwyth University is inviting nominations for a range of Honorary Awards to be conferred during its graduation ceremonies in July 2019.
Nominations of individuals to be considered for Honorary Fellowships, Honorary Doctorates and Honorary Bachelor degrees are invited from staff, students, and members of the general public.
The deadline for nominations is midnight, Sunday 14 October 2018.
Honorary Fellowships are awarded to recognise individuals who have, or have had a connection with Aberystwyth or Wales in general, and who have made an outstanding contribution to their chosen field.
Honorary Doctorate degrees may be conferred on those who have been outstandingly successful in their field, or who have a long record of renowned research and publication.
Honorary Bachelor degrees may be conferred on individuals who are members of Aberystwyth University staff without an entry-level degree in recognition of long-service, contribution and dedication to the Institution; or who are members of the local community who have made a significant contribution to Aberystwyth and the area.
Once received nominations are reviewed by the Honorary Awards Group, which then recommends approximately a dozen individuals from those nominated to the University's Senate and then Council for approval. Once the final list is approved, these individuals are then contacted to see whether they would be prepared to accept the awards.
Geraint Pugh, the University Secretary explains: "The more nominations the University receives, the better. The aim is to have an interesting mix of individuals being recommended for Honorary Awards – individuals whose achievements and contributions we can celebrate, and who will inspire the whole University community."
Full details, including a nominations form and eligibility criteria, can be found online at: www.aber.ac.uk/en/about-us/honorary-awards.  Nominations of suitable individuals to be considered for an Honorary Award in 2019 must be submitted by midnight on Sunday 14 October 2018.