Stepping up Students' Learning – Aberystwyth University hosts its annual learning and teaching conference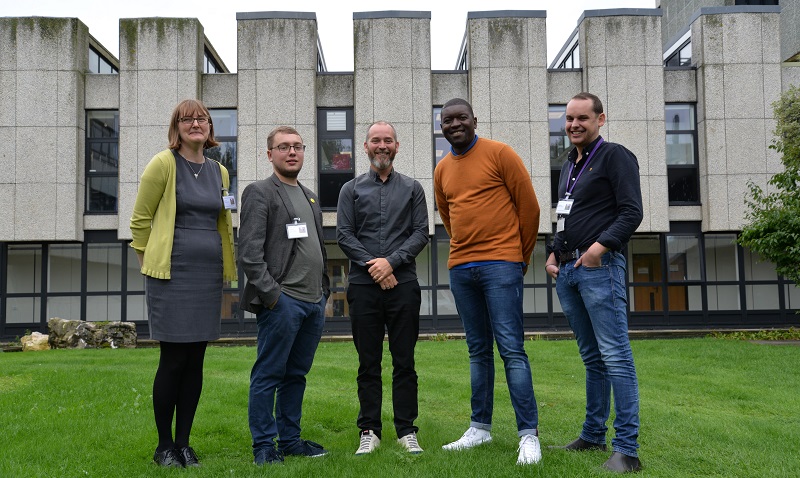 Left to Right: Aberystwyth E-learning Group Manager Kate Wright, Oliver Wood, Professor Jonathan Shaw and Thamu Dube from the Distuptive Media Learning Lab, Coventry University, and Dr James Woolley, E-learning Enhancement & Engagement Theme Leader at Aberystwyth University and organiser of the learning and teaching conference.
A year on from being awarded University of the Year for Teaching Quality by the Times and Sunday TimesGood University Guide 2018, Aberystwyth University this week hosts its annual conference dedicated to improving the student learning experience.
Run over three days from Tuesday 11 to Thursday 13 September 2018, the Aberystwyth University Learning and Teaching Conference (AUTEL) is organised by the University's E-Learning Team.
Now in its sixth year, the event provides an opportunity to share the latest innovations and good practice in teaching and learning.
In June 2018 Aberystwyth University was awarded Gold in the Teaching Excellence and Student Outcomes Framework (TEF) and the theme for this year' conference is 'Stepping up Students' Learning', with a focus on three strands: Independent Learning and Engagement; Transition; and Students taking ownership of learning.
Based in the Llandinam Building on Penglais campus, the conference opened with welcome addresses from Vice-Chancellor Profesor Elizabeth Treasure, Profesor Tim Woods, Pro Vice-Chancellor (Learning, Teaching and Student Experience) and Megan Hatfield, Academic Affairs Officer at Aberystwyth Students Union.
The opening keynote speaker at this year's Conference was Professor Jonathan Shaw from the Disruptive Media Learning Lab at Coventry University.
Described as a sandpit and incubator of exploratory and experimental teaching and learning practices, the Disruptive Media Learning Lab draws together a multidisciplinary team of collaborators and wider users to drive lateral thinking and radical approaches to address the challenges facing higher education.
Professor Shaw discussed how the lab focuses on mainstream and alternative approaches to technologies and how these are explored, repurposed and remixed towards conceptualising a more hybrid and open approach to teaching and learning in order to meet a wide range of stakeholders' needs and expectations.
Professor Shaw is joined by colleagues Oliver Wood and Thamu Dube from the Disruptive Media Learning Lab who will lead sessions on the use of LEGO to enhance learning, and how to support students become active participators in the Open Web and build the essential competencies necessary of graduates working and living in a hyper connected world.
Professor Tim Woods said: "The annual AUTEL conference once again offers challenging, innovatory and diverse learning and teaching ideas. Highlights this year include the presentations from the Coventry University Disruptive Media Learning Lab and the engagements by the AberSU Academic Affairs Officer. The conference showcases the excellent teaching practices that continue to inspire both students and staff at Aberystwyth across the range of its departments; and, just as I have found after past AUTEL conferences, I am confident that all participants will find their teaching invigorated, their practices re-energised and their horizons extended."
Conference organiser and E-learning Enhancement and Engagement Theme Leader at Aberystwyth University, Dr James Woolley said: "The annual Technology Enhanced Learning Conference has become a key event in the University's calendar. This conference is a celebration of the varied teaching and learning activities that take place across the University and gives an opportunity for staff, students and other members of the University to come together and share in a community of exemplary practice. This year's conference theme seeks to reflect the commitment by Aberystwyth University staff to provide a first-rate education experience."
The event is free to attend and is open to all staff at Aberystwyth University who are involved in learning and teaching.
The full AUTEL 2018 conference programme, including abstracts for all sessions are available to download hereor via the ApAber app. You can also follow the conference on Twitter #AUTEL18.
Staff who have not pre-registered are welcome to attend, and register at the conference hub (B20) on the day.
Further information is available from the conference team via email elearning@aber.ac.uk / eddysgu@aber.ac.uk.