Aberystwyth University staff member recognised for contribution to LGBT+ life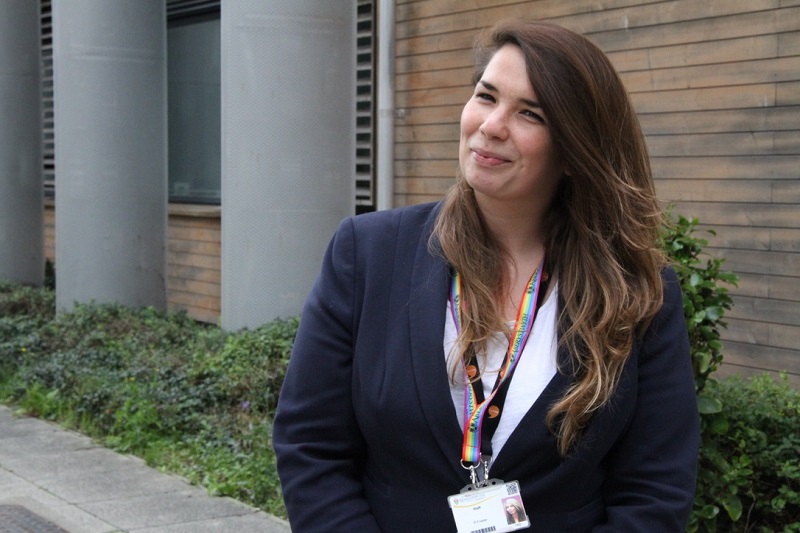 Ruth Fowler, Communications and Equalities Officer at Aberystwyth University
A member of staff in Aberystwyth University's Human Resources Department has been named as one of the 40 most influential LGBT+ people in Wales.
Ruth Fowler, Communications and Equality Officer, features as a "rising star" in WalesOnline's Pinc List which celebrates the people who have contributed to LGBT+ life in Wales over the last year.
Ruth coordinates Enfys Aber, Aberystwyth University's staff lesbian, gay, bisexual and transgender network.
Ruth also established Aberration, which is supported by the University and which hosts an annual programme of LGBT+ events and entertainment in mid Wales.
In 2018, Enfys Aber worked with community group SpringOut to take Aberration on the first tour of its kind around Wales.
The programme included performances at the L festival at Llandudno, the National Eisteddfod in Cardiff, Aberystwyth Arts Centre, and Galeri Caernarfon.
Now in its fourth year, the Pinc List is decided by a panel made up of people from the LGBT+ community, members of Pride Cymru and WalesOnline staff. In 2018, nominations were also invited for the first time from WalesOnline readers.
Ruth said: "It's an incredible privilege to be recognised in this way, and it's a fantastic opportunity to gain further exposure for the LGBT+ community in mid Wales. I'm very grateful to whoever nominated me and those who picked me as a finalist. Congratulations to all the others that made it on to the list too - what an exciting time to be a part of the queer community in Wales!"
Aberystwyth University's Pro Vice-Chancellor and Chief Operating Officer, Rebecca Davies, said: "Our warmest congratulations to Ruth on this well-deserved recognition of her contribution and commitment to championing diversity. As an institution, Aberystwyth University cultivates an inclusive environment which recognises and embraces the diversity of our community.
"This culture of mutual respect was reflected in our latest ranking in the Stonewall Workplace Equality Index where the University was voted one of the UK's top 100 employers for inclusivity in the workplace. We have also been nominated for a 2018 PinkNews public sector equality award, which recognises the contributions of public sector organisations in championing the inclusion and rights of LGBT+ employees and those in the wider community."
In November 2017, the University hosted a conference to support transgender people and their allies, the first of its kind in Wales. Featuring keynote speeches and workshops from transgender activists and academics, the one day conference provided resources to help inform professional staff and members of the public about the issues faced by transgender people.
For the third year, Aberystwyth University is one of the main sponsors for Pride Cymru's Big Weekend which takes place in Cardiff on 24–26 August 2018.