Scholarships inspire Welsh learners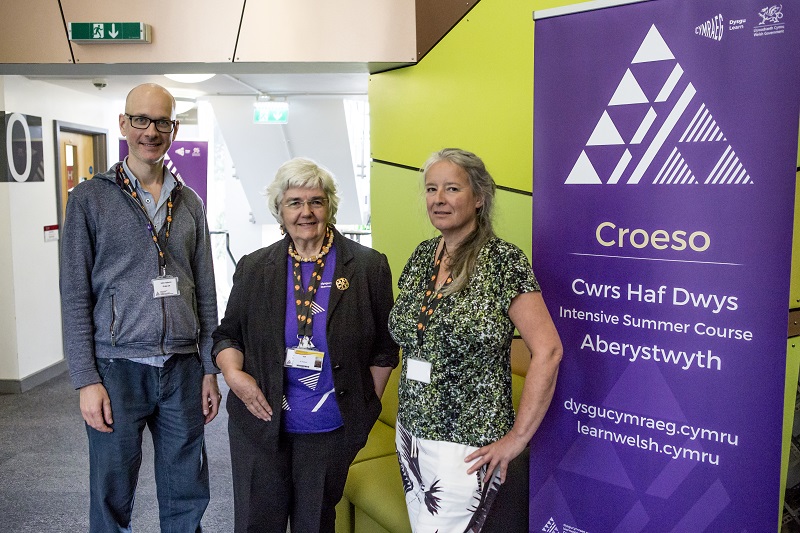 Left to right: John Habron; a student on the Intensive Summer Course, Felicity Robers, Intensive Summer Course Co-ordinator and Tutor, and Zoe Evans, winners of the Dan Lynn James Scholarship.
Welsh learners from Pembrokeshire and Patagonia have spoken of the confidence boost given to them after receiving scholarships to attend the 2018 Intensive Summer Course at Aberystwyth University in July and August.
Zoe Evans from Goodwick, Pembrokeshire won the Dan Lynn James scholarship and Norma Price from Trelew, Patagonia received The National Centre for Learning Welsh and Aberystwyth University Scholarship.
Zoe's goal was to improve the standard of her Welsh in order to be able to converse with local people, at work and with friends.
And for Norma, a teaching assistant at Trelew's Welsh-Medium School in Patagonia, was to gain confidence in her work at the school.
There was also an unexpected surprise for Zoe as one of her fellow students, John Habron from Manchester, was the late Dan Lynn James' son in law.
Originally from Henllan, Ceredigion, Dan Lynn James was an inspiration to many Welsh language learners and tutors between the 1950's and 1980's, and contributed greatly to modernizing the language and teaching methods.
He was also a lecturer in Education at Aberystwyth University and was an Honorary President of CYD – The Welsh Learners' Association.
Ceredigion, Powys and Carmarthenshire's Learn Welsh offer an annual scholarship in his memory, for a learner to attend the Intensive Summer Course at Aberystwyth.
"It wouldn't have been possible for me to be on the course without the scholarship," Zoe said. "I've just passed the Foundation exam, and this course has given me the confidence to speak."
John said: "As Dan Lynn James' son in law, it was an honour to be on the course as Dan was an expert in teaching Welsh as an additional language for adults, and also to meet Zoe. I like languages and speak a little bit of Welsh and I want to practice and improve."
Norma said: "The course has improved my spoken and written Welsh so I'll be able to write better and use more Welsh vocabulary in Patagonia."
Siôn Meredith, Head of Learn Welsh at Aberystwyth University, said: "I would like to congratulate everyone who attended the Intensive Summer Course this year and the tutors who made it such a great success. The scholarships are offered to support learners who are eager to become confident and fluent speakers. After a month in Aberystwyth, I'm confident that Zoe and Norma will return to Pembrokeshire and Patagonia with confidence to use the Welsh language in their everyday lives and in the work place."
"It was also wonderful to meet John, Dan Lynn James' son-in-law, and strengthen the link with somenone who did so much to develop Welsh learning for adults."
Zoe, John and Norma were amongst over a hundred learners from 12 different countries who attended the Intensive Summer Course at Aberystwyth University between 30 July and 24 August 2018.
Aberystwyth University provides the course on behalf of the National Centre of Learn Welsh. Further information about Learn Welsh courses can be found at https://learnwelsh.cymru/.