Aberystwyth University celebrates excellence in teaching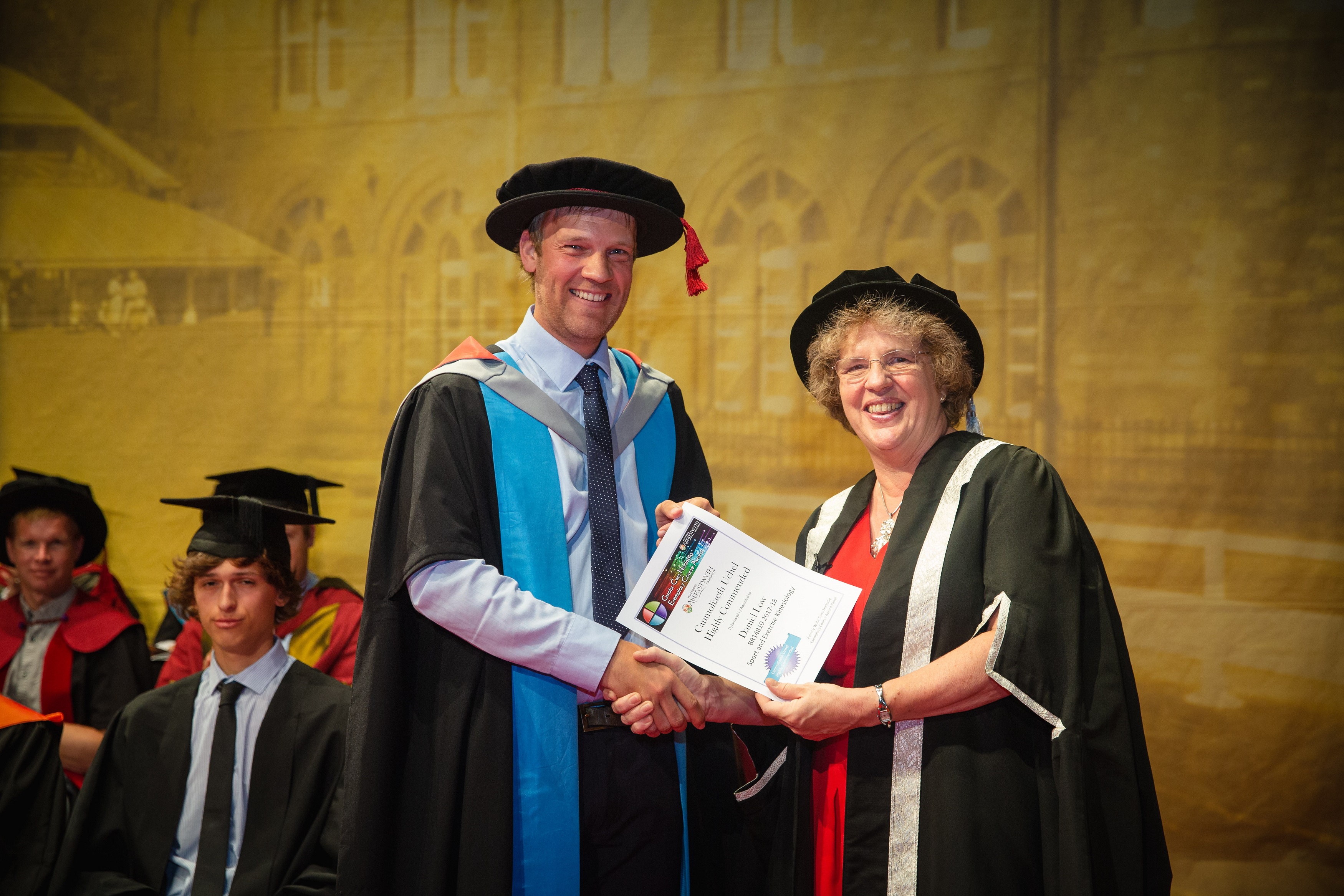 Dr Daniel Low from the Institute of Biological, Environmental and Rural Sciences receiving his highly commended certificate in the 2017-18 Exemplary Course Awards from Vice-Chancellor Professor Elizabeth Treasure during Graduation Week 2018
Modules led by academics Dr Adam Vellender, Dr Catherine O'Hanlon, Dr Daniel Low and Dr Stephen Chapman are the winners of the 2017-2018 Aberystwyth University Exemplary Course Awards.
Now in their fifth year, the Exemplary Course Awards recognise excellence in course design, interaction and collaboration, assessment and learner support.
The winners' modules featured a range of exemplary practices and received Highly Commended Awards during Graduation Week 2018 with certificates presented to the following academic staff:
Dr Adam Vellender, Department of Mathematics – Applied Statistics
Dr Catherine O'Hanlon, Department of Psychology – Quantitative Research Methods
Dr Daniel Low, IBERS – Sport and Exercise Kinesiology
Dr Stephen Chapman, IBERS – Waste Stream Valorisation
The winning modules in the 2018 Exemplary Course Awards were selected by an anonymous panel including teaching and administrative staff as well as student representation. The judging criteria is based on the international Blackboard Exemplary Course Programme (ECP).
Kate Wright, Manager of the University's E-learning Group, which set up the Exemplary Course Awards, said: "This year's winners show the high standard of learning and teaching at Aberystwyth University. Their exemplary practices serve to inspire others to innovate and engage students in active learning.
"The Exemplary Course Awards provide an excellent opportunity for staff to share their work with other colleagues, reflect on their use of tools such as Blackboard, and get feedback on their learning activities from their peers. We congratulate all our Highly Commended staff this year and encourage other staff to consider entering their modules in the future. The E-learning Group are happy to provide advice and support for any interested in finding out more about the ECA."
Professor Elizabeth Treasure, Vice-Chancellor of Aberystwyth University, said: "Teaching excellence is a hallmark of this University and we continually seek to improve the way we educate and share knowledge with our students. The Exemplary Course Awards enable us to recognise the innovative methods our academics use to engage, inform and inspire students. They also allow us to share best practice across our community and we warmly congratulate the winners."
Earlier this year, Aberystwyth University was awarded Gold standard in the 2018 Teaching Excellence Framework (TEF) and holds the title of University of the Year for Teaching Quality in The Times / Sunday Times Good University Guide 2018.

AU2418