Award winning author and Aberystwyth graduate awarded 2018 Tir na n-Og prize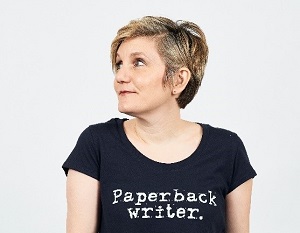 Hayley Long
Esteemed author Hayley Long, who graduated from Aberystywth University with a degree in English Literature in 1992, is the winner of the 2018 English language Tir na n-Og literature prize for young adults.
Organised by the Welsh Books Council, the award celebrates the best English-language title with an authentic Welsh background.
Hayley's novel,The Nearest Faraway Place, is a young adult novel about two boys, Dylan and Griff, and their attempts to overcome a tragic accident that changes their lives forever.
The story is set in both New York and Aberystwyth, with flashbacks to a range of exotic locations around the world, and follows the boys as they try to rebuild their lives.
Hayley lives in Norwich but it was her student days in Aberystwyth that inspired her prize winning novel.
Hayley has fond memories of residing at Pantycelyn, despite not being a Welsh speaker and of the hall's warden, Dr John Davies.
Hayley said: "Aberystwyth made a fundamental and lasting impression on me. The journey from Felixstowe used to take at least 9 hours by train and I can still remember that sensation of relief and happiness and excitement each time the train pulled into Aber and I saw the National Library all lit up on the hillside.
"I don't think I was aware of it then, but the town and the university left an indelible mark on me and I will always love them both and that's precisely why the second half of The Nearest Far Away Place' could only ever be set in Aberystwyth. 
"In the first chapter, I do a terrible thing to my young characters and they must pick their lives up after a total catastrophe. The story is a sad one but I knew from the beginning that it was going to have a hopeful message, and so I help the boys recover by introducing them to lots of things that I love and I relocate them from New York to a place where they can feel better – Aberystwyth."
Hayley was presented the award at Y Drwm, National Library of Wales on the 9 May 2018, as part of the CILIP Wales Conference, the Chartered Institute of Librarians and Information Professionals.
Hayley added: "Winning the Tir Na n-Og award is a massive vote of confidence and makes me feel so very, very encouraged to keep on writing the (sometimes quirky) things I want to write. I feel like I owe a debt of gratitude to Aberystwyth all over again. Diolch yn fawr."