Aberystwyth glaciologists return to drill the world's highest glacier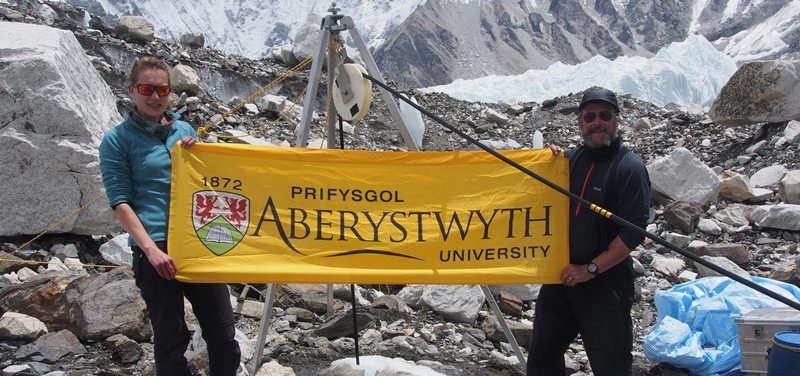 Aberystwyth University members of the EverDrill project, Katie Miles and Professor Bryn Hubbard, flying the Aber flag at drill site three on the Khumbu glacier near Everest Base Camp during the 2017 expedition.
Glaciologists from Aberystwyth University are set to return to the Himalayas, a year on from a successful mission to drill through the world's highest glacier.
Polar Medal holder Professor Bryn Hubbard and postgraduate researcher Katie Miles from Aberystwyth University's Centre for Glaciology will travel to Khumbu Glacier in the foothills of Mount Everest.
The team depart for the Himalayas this weekend, 14/15 April 2018.
In April 2017, and working at around 5000 metres above sea level, Hubbard and Miles were members of the first team to successfully drill to the base of the 17 km-long glacier which flows from an altitude of 7600 meters to around 4900 metres at its terminus.
At the highest point, near Everest base camp, the team spent three days drilling 150 metres into the glacier before recording its internal structure using a 360o camera developed by partners Robertson Geologging of Deganwy, north Wales.
This year the team will be working at around 300 metres higher up the glacier as they study its internal structure, measure its temperature, how quickly it flows and how water drains through it.
Combined with satellite images, the data collected will enable researchers to understand how the glacier moves and changes over time, and to model how it might respond to anticipated climate change.
Professor Hubbard said: "Returning to the sites where we drilled last year will enable us to collect the data loggers that have been recording for the last 12 months, and for the first time see how this glacier might respond to future changes in climate. We also want to take new measurements above Everest Base Camp, so that we have the best chance of characterising the ice descending from the Western Cwm."
The work is part of the EverDrill research project led by the University of Leeds.
Dr Duncan Quincey, project leader from the School of Geography at Leeds and former member of staff at Aberystwyth University, will be overseeing the field logistics while the drilling will be led by Professor Hubbard.
Funded by the Natural Environment Research Council (NERC), Professor Hubbard and Dr Ann Rowan from University of Sheffield, who also studied Glaciology at Aberystwyth, are Co-Investigators on the project.
This year's mission will also test new water heating and pressurizing equipment developed by commercial pressure washer manufacturer Kärcher that should enable team members to drill into the ice at elevations of up to 6000 metres.
Until now, Hubbard and colleagues have been using commercially available car wash units to produce the hot water that is needed for drilling into the ice.
Working with Kärcher, the newly developed equipment is now more portable and should enable the team to study the historical record of snowfall and environmental change in the Himalaya.
Duncan Quincey said: "Glaciers flow continuously and variably, deforming and mixing the snow that originally accumulated as seasonal layers. This makes them generally unsuitable as a record of past climate change. However, farther up Khumbu, at around 6000 metres, there are spreading domes and cols that hold those layers intact and where it is therefore possible to collect data on annual snowfall and ice formation extending back possibly 200-300 years. This represents a period from before the industrial revolution up to the present day, and is consequently highly significant for climate change research."
During the mission, Aberystwyth University postgraduate researcher Katie Miles will use a fluorescent dye to study how water flows into and through the glacier.
Katie Miles said: "All the evidence suggests that more water flows into the glacier as the ice melts than comes out from its margins. Dye tracing experiments will help us understand better where this missing water goes, helping us to improve computer models that are used to predict future changes to the glacier, and potentially the availability of water to communities down-stream."
Technical challenge
For the second year on Khumbu, Professor Hubbard and colleagues will be working at an elevation of over 5000m and will have to contend with a number of physical and technical challenges.
To facilitate the drilling, equipment weighing approximately 1500 kg will need to be lifted onto the glacier.
Half the equipment will be air-lifted by helicopter and half will be carried up by locally hired porters, yaks and the research team.
Professor Hubbard and colleagues regularly use helicopters to transport equipment to remote and inaccessible areas during field studies.
At sea level, helicopters used by the team would typically be able to lift over a tonne at a time. For altitude reasons, the payload for this expedition is expected to be under 200 kg per trip.
Drilling will be done with a specially adapted car wash unit that produces a jet of hot water at a pressure of up to 120 bar, enough to penetrate rough tarmacadam.
The drill will be powered by three Honda generators whose power output is expected to be compromised by up to 50% due to the lack of oxygen at altitude.
Water from surface ponds on the glacier will be filtered and then heated to ~40oC for drilling purposes.
Whilst their equipment is air lifted, Bryn and colleagues will undertake an eight-day trek from Lukla airport as they acclimatise to their high-elevation surroundings.
Professor Bryn Hubbard
Professor Bryn Hubbard was awarded the Polar Medal in January 2016 for his work as a "Polar scholar in glaciology, glacial geology and the structure and motion of ice masses".
This year's Himalaya study will be his 30th consecutive year to include a period of glaciological fieldwork.
In June, a month after returning from Khumbu glacier, Professor Hubbard will travel to Greenland where he will study the Store Glacier.
Using five heavyweight and specially adapted car-wash units, Professor Hubbard and colleagues plan to drill up to 1200 metres into the glacier as they study the interaction between the glacier and the subglacial sediments beneath it.
Since 1988 Professor Hubbard has worked in Antarctica on six occasions, studied high altitude glacier movement in the Peruvian Andes on three occasions and the Himalayas once, worked in Greenland on five occasions and on Svalbard eight times, as well as numerous research trips to the European Alps, the Canadian Arctic and Norway.