Fine Art alumna wins award in leading UK competition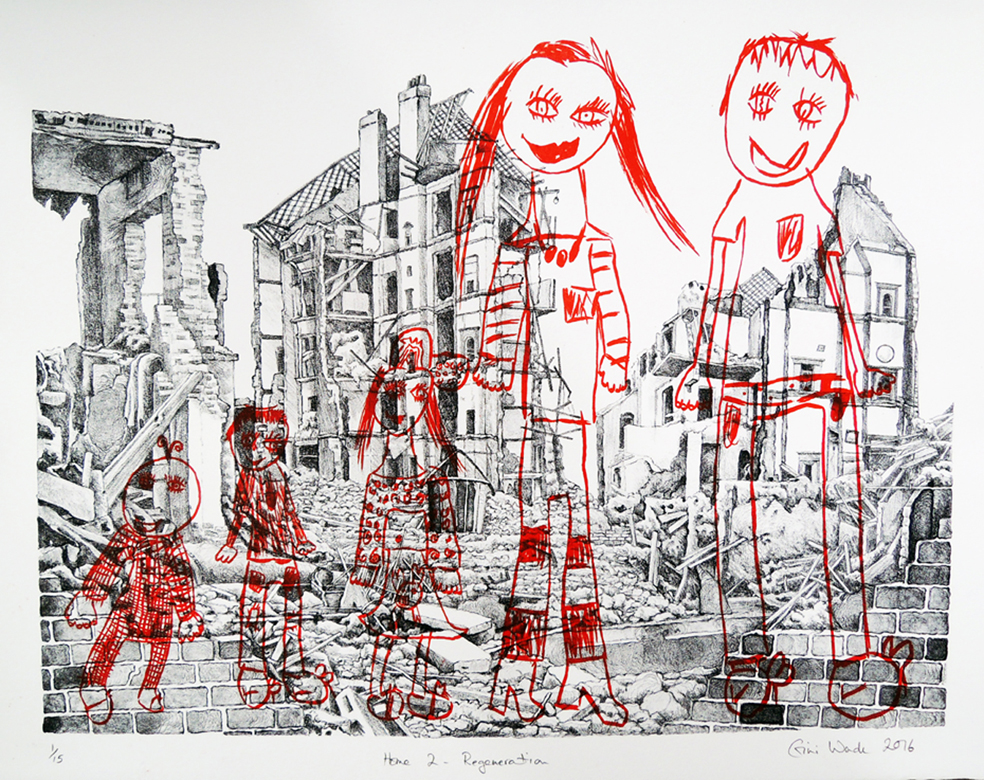 'Home 2 - Regeneration' is the lithograph which won Gini Wade the Regional Award for Wales in the 2016 National Open Art competition.
Artist and printmaker Gini Wade, who completed an MA in Fine Art at Aberystwyth School of Art, has won the Regional Award for Wales in the 2016 National Open Art competition.
Gini studied at Aberystwyth University School of Art as a post-graduate student from 2007-10, specialising in lithography with Paul Croft, and was awarded an MA in Fine Art with distinction.
She entered two lithographs, 'Home 1' and 'Home 2 – Regeneration', into the National Open Art competition, which received almost 3,800 entries. 
Explaining the background to the two artworks Gini commented: "Home 1 was my response to the war in Syria, which I find particularly upsetting as I spent a very pleasant month there 20 years ago and met some lovely people.  Making Home 1 triggered my childhood memories of WW2 bombsites in London.  Though I am not old enough to have experienced the bombing myself, I heard plenty of horrific first-hand accounts during my childhood, which makes what is happening in Syria 'real'.
"The idea for Home 2 - Regeneration came to me while crossing Mile End Park in East London - an area that was totally bombed flat during WW2, then after the war was part of a regeneration project.  Now you wouldn't know anything had happened there; it's a peaceful scene with children playing and mums pushing prams. It's amazing how quickly traumas are forgotten after a generation or two, though the after effects still ripple on."
Home 2 – Regeneration was awarded the Regional Award for Wales, and was featured alongside 35 prizewinning paintings, drawings, prints, photographs, wall-hung installations and digital art pieces at the critically acclaimed Pallant House Gallery in Chichester, where the National Open Art competition was founded 20 years ago.
As winner of the Regional Award for Wales, Gini received a prize of £1,000 and a weekend break at the Tŵr y Felin Hotel in St Davids, which sponsored the prize.
On winning the prize Gini said: "I was delighted and gobsmacked when I was awarded the prize. The money is great, of course, and I gave half to help Syrian refugees, which seemed only fair. But it's not just the money, it's the recognition which is very encouraging. I have to thank the Aberystwyth School of Art, where I did my MA, which has enabled me to extend my practice from illustrator to artist/printmaker. Particular thanks to my tutor Paul Croft who taught me everything about lithography."
Lecturer in Fine Art at Aberystwyth School of Art, Paul Croft, commented: "Gini has been a fantastic ambassador for printmaking and an inspiration to a whole generation of students; since graduating she has helped to popularise the practice of stone and plate lithography, teaching at Aberystwyth Printmakers and at The Rodd at the Sydney Nolan Centre in mid-Wales."
Based in Mid-Wales, Gini worked as an illustrator and children's book author for many years, and now makes her own prints and runs lithography workshops. She is a director of Aberystwyth Printmakers and contributes articles to Printmaking Today.
Her prints are held in private collection all over the world, and also in public collections: the Wellcome Library Collection, the V & A, the Zuckerman Museum of Art, USA, the Ewing Gallery of Art, USA, Hunan Fine Art Institute, the Aberystwyth University Collection, and the Contemporary Art Society for Wales Collection.