Research Fellowship for AU Mauritius Lecturer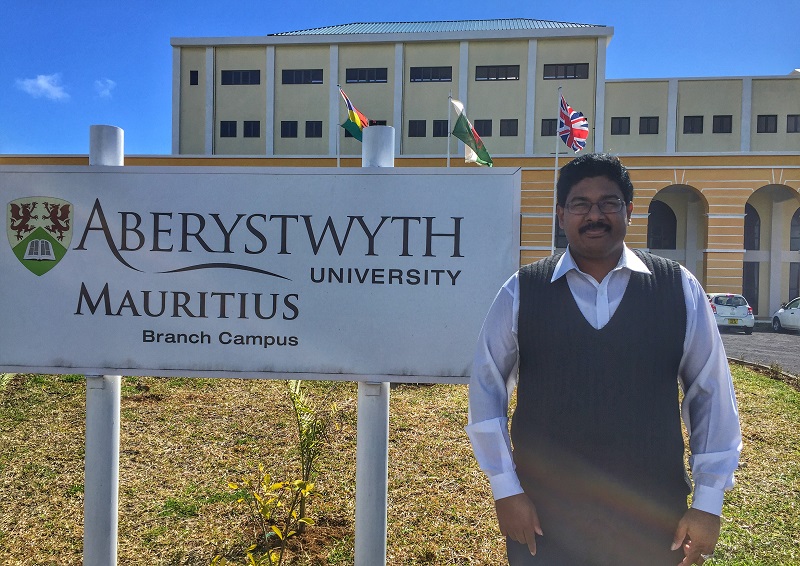 Dr Dinesh Chuckravanen outside Aberystwyth University Mauritius campus
A Computer Science lecturer at Aberystwyth University Mauritius has been awarded a fellowship for an international research project on cognitive fatigue.
Over a period of twelve months, Dr Dinesh Chuckravanen is working with fellow researchers at Konya University in Turkey.
The fellowship has been awarded as part of the Co-Funded Brain Circulation Scheme aimed at increasing and facilitating the international mobility of scientists.
The scheme is supported by the Scientific and Technological Research Council of Turkey and the Marie Curie Action COFUND of the European Commission's seventh framework programme.
The team are investigating the nonlinear analysis of electroencephalogram (EEG) activities to find biomarkers of cognitive fatigue from healthy participants.
The research involves the collection of EEG data under laboratory conditions, under the supervision of a neurologist and senior researchers in the neuroscience and computational neuroscience field.
The long term aim is to develop a medical device to measure at a high accuracy the cognitive level of healthy individuals.
The Dean of Aberystwyth University Mauritius, Dr David Poyton, said: "We are delighted that our colleague Dr Dinesh Chuckravanen has secured funding to develop his research on cognitive fatigue. Research-led teaching is highly important to us here in Mauritius and like Dr Chuckravanen, the majority of our lecturers are experienced researchers."
Dr Chuckravanen is a lecturer in Computer Science at Aberystwyth University Mauritius. He has an MSc (Distinction) in Signal Processing and Communications Engineering from the University of Plymouth and did his PhD in Northumbria University at Newcastle, UK.