Aberystwyth academic to address India-UK Tech Summit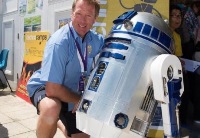 R2-D2, built by Stephen Fearn from the Department of Physics, will feature in the summit's Robotic zone, along with research on the ExoMars lander which is being undertaken at Aberystwyth.
Aberystwyth University computer scientist and Advanced Reasoning expert Professor Chris Price will speak at India's biggest knowledge and technology conference which is being held in New Delhi 7-9 November 2016.
The India-UK Tech Summit has been organised as part of the 2016 UK-India Year of Education, Research & Innovation and will be addressed by UK Prime Minister Theresa May and Shri Narendra Modi, Prime Minister of India.
The event is described by the organisers as "bringing together the most exciting thought leaders, businesses, educational institutions and innovators to connect and explore the future of India-UK collaboration".
Professor Price will be discussing the 'Goals of Intelligent Robotics' in a session on Robotics and Autonomy.
He will share the stage with the UK Government's Chief Technical Officer Liam Maxwell and researchers from Leeds and Edinburgh universities.
Robotics research at Aberystwyth University will also be represented at one of the summit's six Experience Zones.
A scale model of the Mars lander, part of the European Space Agency's ExoMars mission in 2020, will be on show.
Researchers at Aberystwyth are playing a leading role in the development of the ExoMars' camera system PanCam, as the mission goes in search of life on the red planet.
Alongside the Mars lander will be an exquisite working model of the iconic Star Wars character R2-D2.
Built by Stephen Fearn from the University's Department of Physics, R2-D2 is used extensively as part of the University's hugely popular outreach programme which aims to inspire young people to study science, technology and mathematics.
Speaking ahead of the Summit, Professor Price said; "I am delighted to have been invited to represent Aberystwyth University and the UK's Higher Education sector at such a prestigious event.
"This is a great opportunity to showcase some of the cutting edge research being undertaken here at Aberystwyth University and to establish new links with universities and industry in India."
Computer Science at Aberystwyth University is rated amongst the top 15 departments in the UK for student satisfaction, according to the 2016 National Student Survey.
It's also ranked 11th in the UK for research intensity in the 2014 Research Excellence Framework.
AU32916