Acclaimed artist takes position at Aberystwyth Arts Centre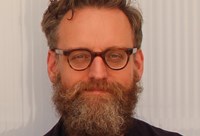 Steffan Jones-Hughes
An experienced curator, arts administrator and artist has been appointed as Visual Arts Manager at Aberystwyth Arts Centre.
Steffan Jones-Hughes will be taking on the role after working for twelve and half years developing Wrexham's arts and cultural ecology, first in the Regional Print Centre and more recently at Oriel Wrecsam.
During his time with Wrexham County Borough Council, he worked alongside Oriel Wrecsam as they successfully ensured a £2.3m investment from the Arts Council Wales to transform and revitalise the town.
Director of the Arts Centre Gareth Lloyd Roberts said: "The Visual Arts have always been a hugely important aspect of the work we do at Aberystwyth Arts Centre and we're delighted that Steffan, who has years of experience and considerable Visual Arts knowledge, will be joining us in November. We're all very much looking forward to welcoming him to the Arts Centre team; together we will continue to develop our reputation as a leader in the field, building on the great past successes of the department."
Steffan has worked for many arts organisations including Arts Council England, Tate, Whitworth and Oriel Davies as well as with universities in Northern England.
As an artist he has worked in public and private collections and has exhibited nationally and internationally. He has also written about arts and culture for many publications.
"As a child I would take the train from Porthmadog to Aberystwyth to visit the Arts Centre, so I am delighted to have this opportunity to work there," said Steffan Jones-Hughes.
"I'm really looking forward to working with artists and cultural groups while developing a programme that reflects the vibrancy of the town and surrounding communities."
AU29716