Study reveals rumen fluke now very common in Wales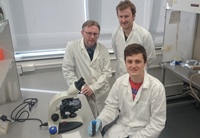 Members of the research team that studied the prevalence of rumen fluke in Welsh farms: (Left to right) Professor Peter Brophy, Dr Hefin Williams and Rhys Aled Jones from the Institute of Biological, Environmental and Rural Sciences at Aberystwyth University.
A study by scientists at Aberystwyth University's IBERS working with Wales YFC reveals that rumen fluke (Calicophoron daubneyi) is now prevalent on Welsh farms.
Funded by Coleg Cymraeg Cenedlaethol and an Owen Price Scholarship in conjunction with Wales YFC, the study is published today in the journal Parasitology.
Rumen fluke (Calicophoron daubneyi) on Welsh farms: prevalence, risk factors and observations on co-infection with Fasciola hepatica
The research was undertaken by scientists at the Institute of Biological, Environmental and Rural Sciences (IBERS) working in partnership with young farmers in Wales to identify rumen fluke prevalence levels and associated risk factors across Wales.
Rumen fluke was previously regarded as a rare parasite, but is now an emerging problem in the UK and information on its prevalence in Wales has been very scarce to date.
The similar parasite liver fluke is one of the biggest problems facing the UK livestock industry, estimated to cost £300 million annually. Its prevalence was also recorded in the study.
Dr Hefin Williams, a Lecturer in the Agricultural Environment with Coleg Cymraeg Cenedlaethol at IBERS steered the Wales rumen and liver fluke project.
Dr Williams said; "Our research results reveal that rumen fluke is now very common in Wales with 61% of surveyed farms across the country testing positive for the parasite.
"Our climate is changing and increased rainfall and temperatures may increase the habitats for the mud snail which is confirmed as the main host for rumen fluke in Wales by this study", he added.
The survey's other main findings include:
• Rumen fluke was more commonly found infecting cattle compared to sheep
• Prevalence of rumen fluke was higher in western areas of Wales compared to eastern areas
• The survey did not observe heavy infections of both parasites on individual farms and the team are currently investigating this aspect further.
Livestock farmers should also note:
• There is currently no licensed drug for the treatment of rumen fluke in the UK.
• Information on the true effects of rumen fluke infection on health and productivity of cattle and sheep remains scarce
• It is advised that farmers consult their veterinarian if rumen fluke is present on their farm
• Boggy or wet areas, ponds, ditches and streams are all potential habitats for the mud snail and thus risk areas.
• Drainage, fencing and rotational grazing are all practices that can reduce risk on farm.
Morys Ioan, Wales YFC Rural Affairs Chairman commented;
"Wales YFC is pleased to have been given the opportunity to take an active role in this important project. Research of this nature is vital to ensure the success of our industry. Dr Hefin Williams revealed some concerning findings that we hope can be addressed by the sector and suggested steps for more effective management of rumen fluke in livestock."
This research was the first time Aberystwyth University researchers have actively engaged with young people in research that could be of benefit to them at farm level, whilst assisting the researchers at the University to conduct research of wider value to the industry.
Further research collaborations between IBERS scientists and Wales YFC are in the pipeline.
AU32716