Aber Professor elected Fellow of the Academy of Social Sciences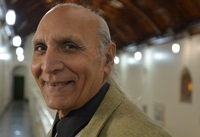 Professor Paul Ghuman
An Aberystwyth University professor has received one of the highest accolades in the field of social sciences after being made a Fellow of the Academy of Social Sciences.
Professor Emeritus Paul A. Singh Ghuman is a leading figure in the field of South Asian studies with a particular interest in equal opportunities and the predicaments faced by South Asian communities in the UK.
The recently announced Academy Fellows are drawn from across the spectrum of academia, practitioners and policymakers. Their recognition follows an extensive process of peer review for the excellence and impact of their work through the use of social science for public benefit.
The list of names reflects substantial contributions and leadership in higher education, government, public health and social policy, funding councils, charitable foundations and think tanks.
Professor Ghuman is only one of four from Wales to be conferred as a Fellow and was naturally delighted at the news.
"I feel honoured to be made a fellow of the Academy and look forward to networking with eminent social scientists in the UK and elsewhere. I would like to thank my students and Aberystwyth University for supporting me in my research endeavours, and its impact on educational and social issues."
In November 2015, Professor Ghuman was awarded the British Psychological Society's (BPS) 2015 Award for Promoting Equality of Opportunity.
Professor Ghuman joined Aberystwyth University in 1971 and was appointed Head of the Department of Education in 2000, a post he held until his retirement in 2003.
He is currently working on his latest book which will focus on senior South Asians and their contribution to the West.