Black History Month Diversity Champion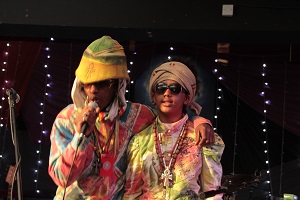 Scratchylus and Empress Reggae who performed at Aberystwyth University during Black History Month 2016.
Aberystwyth University has been named a 2016 Black History Month Diversity Champion.
The award was given in recognition of the University's promotion and programme of events of this year's Black History Month as well as its commitment to diversity.
On Friday 28 October at 6.30pm, a special panel discussion will be held in the Main Hall of the Department of International Politics on RACE - Black Experiences in Higher Education.
The debate will start with a short presentation by Dr Kehinde Andrews of Birmingham City University who is Co-Chair of the Black Studies Association and Co-Convener of the British Sociological Association Race and Ethnicity Study Group.
Dr Debra Croft, Director of Equality at Aberystwyth University, is chairing the discussion: "I am proud that we have made a real splash for Black History Month this year as part of delivering our Equality Action Plan and, in particular, thrilled to be chairing a panel discussion on a topical subject area with a group of top rate academics."
Entry to the panel discussion is free and the event is open to staff, students and members of the public.
'Reset the Mindset'
Earlier in October, Aberystwyth hosted a gig by Scratchylus and Empress Reggaee who were touring universities across the UK with their 'Reset the Mindset' message.
Throughout Black History Month 2016, information on a range of relevant topics including key dates and Black Heroes is also being displayed across all campuses.
A spokesperson for Black History Month said: "We are very pleased to announce that Aberystwyth University have been awarded Black History Month Diversity Champion for 2016. We have watched with pleasure as Aber have planned, developed and embraced national Black History Month and this year's theme "Resetting the Mindset".
"They have put together an exemplary programme which included hosting the Reset the Mindset University Tour with Scratchylus and Empress Reggae as part of their national campaign to raise awareness of diversity and inclusion in Wales. We would like to thank and congratulate the University and staff Dr Debra Croft, Director of Equality; Lilian Keller from Marketing, and Ruth Fowler from Human Resources".
Black History month is an annual event, which began in America, to reflect on the history and culture of black people and its impact in countries throughout the world. It is celebrated in October in the UK, where it began in 1987, and there will be over 6000 events throughout the Britain this year. It marked its 90th anniversary in America, in February 2016.