Launch of two brand new reading series for children learning Welsh as a second language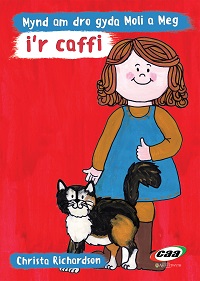 Cyfres Moli a Meg
One of Wales' leading publishers of educational resources, CAA/Educational Resource Publishers at Aberystwyth University, is launching two series of books for children learning to read in Welsh – Cyfres Moli a Meg andCyfres Jac a Jes –  at Ysgol Teilo Sant, Llandeilo. The event will take place on Wednesday, 19th of October.
The series' author, Christa Richardson, who is also a teacher at Ysgol Teilo Sant, will read some of the books, and Heather Davies will hold a lively zumba session for the children. Moli and Meg, the likeable characters (a young girl and her cat), will also be present at the launch!
Cyfres Moli a Meg is a series of colourful and attractive books for children who are beginning to read Welsh as a second language. In this series of 8 books for children under 7 years old, we will follow Moli and Meg's adventures as they visit various locations which are very familiar to children – such as the park, the sinema, or the café.
In Cyfres Jac a Jes, aimed at children aged 7-9 years old, there's a combination of four lively storybooks and four books that begin as stories, but then develop into factual books full of interesting information. The fictional books follow Jac and Jes (a young boy and his dog) on their adventures in locations such as the hidden cave or in the forest, whilst in the factual books the children will learn about topics such as the red kite or batik.
Bethan Davies, Head of Ysgol Comins Coch, near Aberystwyth, said:
"There is effective repetition of sentence patterns and vocabulary in these books, which is essential for learners. The illustrations are simple but effective in the Moli a Meg series, and the illustrations in the Jac a Jes series are appealing and very appropriate for the age group.
Generally, there is a gap in the market for suitable reading material aimed primarily at young readers who are learning Welsh. These books are a positive step towards bridging this gap and will be valuable resources to schools teaching Welsh as a second language."
CAA produce print and digital resources of a high standard in Welsh and English. Since it was established in 1982, it has produced around 2,500 publications.