Aberystwyth law students help run free legal advice clinic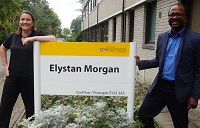 Emma Williams and Dr Ola Olusanya outside the Elystan Morgan building, Aberystwyth Law School
A pioneering module at the Aberystwyth Law School will offer free advice on family law to local people.
The monthly drop-in sessions will be led by leading family law expert Emma Williams who graduated with a degree in Law from Aberystwyth University in 1996.
Ms Williams has specialised in family law for the past 20 years in the UK as well as internationally, and now has her own practice in Llandeilo.
From October 2016, she will be in the Elystan Morgan building of Aberystwyth's School of Law on Llanbadarn Campus between 4-6pm every fourth Wednesday of the month.
During the two-hour clinic, Ms Williams will be observed by third-year students on the Law and Social Justice In Practice module. Students will also assist with paperwork.
"Students face a very steep learning curve when they leave university and are exposed for the first time to law in practice," said Ms Williams.
"This innovative module will allow them to observe real life clients with real life problems. It will also offer affordable legal advice to local people.
"Students will not be able to give advice to clients of course – that will be solely my responsibility. They will also have had lectures on client confidentiality. However, if a client does not want a student present when they discuss their case, then their wishes will be respected."
The module has been developed by Dr Ola Olusanya, a lecturer in Law and Criminology at Aberystwyth University.
"This is a unique chance for students to see law in action whilst they're still studying at Aberystwyth University. Further, the interdisciplinary nature of this module will deepen the ability of our law students to learn transferrable skills and to gain authentic work experience which will stand them in good stead when they enter the world of employment.
"We are very grateful to Emma Williams for her readiness to work with us and to share her vast knowledge of family law with our students and the wider community."
Dr Olusanya is also working with other external organisations such as Citizens Advice to allow students to undertake law and social justice placements in their final year.