Aberystwyth Graduate at European Conference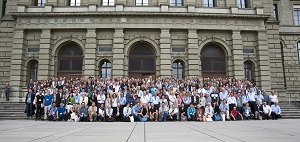 The 20th Eucarpia Congress in Zurich
A recent graduate from the Institute of Biological, Environmental and Rural Studies at Aberystwyth University has delivered a presentation at a major plant breeding conference in Switzerland.
Lucy Slatter - who graduated in July 2016 with a first class honours degree in Biology – was part of the 20th Eucarpia Congress held at the world renowned Swiss Federal Institute of Technology in Zurich (ETHZ).
She gave a poster presentation on the genetics of breaking down reproductive barriers to seed production, which was the subject of her final year dissertation project.
During the conference - entitled Plant Breeding, the Art of Bringing Science to Life - Lucy also had the chance to meet and discuss with world leading plant breeders and geneticists.
Lucy is now employed as a trainee wheat breeder by KWS (UK) Ltd, a German-owned plant breeding company which has a site at Thriplow near Cambridge.
Her employers are sponsoring her to continue her education at the prestigious Wageningen University in Holland, where she will be doing an online Master's degree.
Dr Danny Thorogood, a plant breeder and geneticist at IBERS, said, "It was a pleasure to supervise Lucy's dissertation project and the results have given invaluable insights into a fundamental plant process that is highly relevant to practical plant breeding methodology".
"Lucy is one of an increasingly scarce source of young plant scientists so essential for ensuring food security for an increasing world population under increasingly challenging climatic conditions".