Aberystwyth Students Build Berlin Art Installation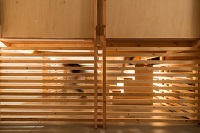 The wooden structure built by the TAAT as part of the HALL03 installation
Five students from the Department of Theatre, Film and Television Studies at Aberystwyth University are in Berlin this week (5-11 September) taking part in an international, cutting-edge theatrical project.
The Aberystwyth students are working with five architecture students from the Alanus Hochschule in Bonn to help design and build a public performance installation in the Deutsches Architektur Zentrum (German Architecture Centre) in Berlin.
Called HALL04, the project is led by Dutch-Belgian collective TAAT (Theatre as Architecture, Architecture as Theatre) which uses the idea of architecture as theatre to bring people together.
HALL04 is designed to be a low-tech performance installation which invites strangers of all backgrounds to come along and create a piece of theatre together without the use of words.
Strangers will enter the installation together and the experience is designed to prompt interactions between the pairs which they must negotiate without speaking.
Working with TAAT, the student teams will have just a week together in Berlin at the white cube exhibition space of the German Architecture Centre to construct the installation ready for the public opening on Saturday 10 September.
Dr Andrew Filmer - a Lecturer in Drama, Theatre and Performance at Aberystwyth University -specialises in the relationship between performance and architecture. As co-convener of the Theatre Architecture Working Group of the International Federation of Theatre Research (IFTR) since 2012, it was his international connections which opened up this opportunity.
Dr Andrew Filmer was approached by TAAT and asked if his students would like to be involved in the project. A two day workshop was held at Aberystwyth in June 2016 to decide which lucky students would be invited to Berlin to gain invaluable experience and international exposure.
The successful candidates were third year students and recent graduates Dominika Rau, Róisín Murphy, Benjamin Braithwaite and Kristina Eckern along with Jenny Case who's in her second year.
Speaking about the project which is funded by the Flemish Arts Council, Dr Andrew Filmer said: ""Great research-led teaching opens doors for our students here at Aberystwyth. We want to give them as many opportunities as possible to gain life changing experience. This project will allow them to deepen their understanding of collaborative artistic practice and gain international exposure for their work.
"Working with TAAT offers our students an encounter with innovative ways of thinking about theatre and architecture and encourages them to think about the different sorts of experiences they might create for an audience.
"The project also reflects the importance the Department of Theatre, Film and Television Studies places on embedding research-led teaching in its degree schemes and our long-standing experience in practice-based research."
With no actors and no audience members, the performer and spectator become one in this interactive theatre event. Visitors will enter a wooden 'hyper-reality' accompanied by a stranger and will engage with each other as they manoeuvre through the intricate design of the installation, where ordinary behaviour turns into a spontaneous performance.