Aber Delivers Innovative Translation Course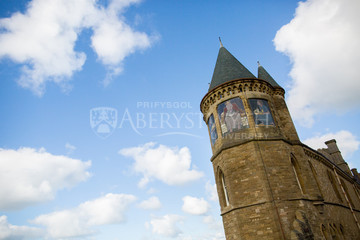 An innovative postgraduate translation course is to be delivered for the first time by Aberystwyth University in autumn 2016.
The Department of Welsh and Celtic Studies at the University - recently voted the best of its kind across the UK - will provide the course in conjunction with the Coleg Cymraeg Cenedlaethol and partners from within the translation industry.
It is hoped the pioneering course will help answer the demand for highly trained translators from within the sector.
As an added incentive, Caernarfon-based translation company Cymen is offering a scholarship place and a guaranteed job for two years for one outstanding applicant.
Mandi Morse, Lecturer of Professional Translation Studies at Aberyswtyth University, explains how the course will be delivered: "One of the main advantages of our course is that it offers a very flexible approach. Students can choose to study for a Certificate qualification only or continue to complete a Diploma and then a full MA. It can also offer further training to those already working as translators who want to develop professionally and gain a recognised qualification in the process.
"In addition to learning about all aspects of translation, the course also provides an opportunity to gain invaluable work experience in the workplace. Students are required to undertake a short work experience placement, and therefore are able to have first-hand experience of the work conditions and expectations of professional translators.
"This is the first course of its kind in Wales and we're very proud to be delivering a programme which meets the demands of today's increasingly bilingual society."
The Professional Translation Studies course will cover all aspects of the professional translator in contemporary Wales. The course will prepare students for a career in the field of translation and will provide an insight into the translation industry as well as the opportunity to pursue individual interests and specialise in areas such as general translation, legislative translation, translation technology and simultaneous translation.
Aled Jones, Director of Cymen translation company, is thrilled to be working in partnership with the acclaimed department:
"We are very excited about this new course as it is crucial to the industry to develop new translators who have received a high standard of training. The beauty of this course is that, in addition to offering an academic qualification, it involves practical elements working with professional organisations such as ourselves and the Welsh Government. It therefore ensures applicants have greater employment prospects once the course has finished. Our scholarship is hopefully an additional incentive – it's open to anyone who is applying and the successful applicant will also have a guaranteed job at the end of the course."
Geraint Wyn Parry, Chief Executive of Cymdeithas Cyfieithwyr Cymru, said the Master's programme was an important and significant development: "In providing training that is directly relevant to the needs of professional translators, we are confident that this new course will bring obvious benefits to the translation industry in Wales."
Applications for the Professional Translation Course can be made online and the closing date for the Cymen scholarship is 31 August 2016: www.aber.ac.uk/en/cymraeg/cyrsiauuwchraddedig/cyfieithu
In the recent National Student Survey (NSS), Aber's Department of Welsh and Celtic Studies, came out on top when compared to similar UK departments with the annual survey also giving a maximum 100% score to its teaching, its assessment and feedback and academic support.