Aberystwyth University: Top Ten in the UK and Top in Wales for Student Satisfaction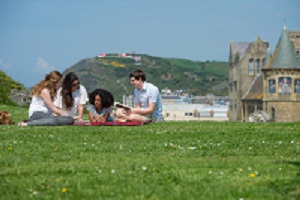 Aberystwyth University is celebrating its best ever performance in the annual National Student Survey (NSS) published today (Wednesday 10 August 2016).
The University is rated the best in Wales, the fourth best broad-based university and one of the top ten of all higher education institutions in the UK for overall student satisfaction, according to the annual survey.
The results show that overall satisfaction amongst students at Aberystwyth University stands at 92% - that's six percentage points higher than the UK figure of 86%.
Two departments at Aberystwyth University are rated the best in their field across the UK for the quality of their teaching – namely the School of Art and the Department of Welsh & Celtic Studies which were both given ratings of 100%, with almost every other Department scoring more than 90% for overall satisfaction.
Aberystwyth University has also recorded exceptional scores across a range of individual undergraduate degree courses, including 100% satisfaction in 9 programmes: Accounting and Finance, Animal Science, Astrophysics, Countryside Conservation, Environmental Earth Sciences, Fine Art, International Politics & Non-Western World, Physical Geography, and Plant Biology. A further 23 main programmes achieved a score of 90% or more.
The National Student Survey is carried out annually by IPSOS Mori on behalf of the UK's higher education funding councils and gathers the opinions of final-year students at 155 higher education institutions. It asks students to score their university across a wide range of measures including quality of teaching, assessment and feedback, academic support, organisation and management, learning resources and personal development.
Professor John Grattan, Acting Vice-Chancellor at Aberystwyth University, said: "The student experience has always been at the heart of everything we do here at Aberystwyth University and these results show how much effort goes into making sure that the experience they have is first-rate. They also reflect Aberystwyth's overall aim of ensuring that our students succeed not only at University but also reach their longer-term career objectives. We have invested in our campus resources but we also focus on research-led teaching and that's reflected in the quality of teaching here.
"Few other universities in the UK have seen the kinds of scores we are seeing today for Aberystwyth University where students have said that they value learning and living in an exceptional environment. We have climbed more than 100 places since last year but not only is the overall satisfaction with the University at a record high, we are also seeing stellar performances across individual Departments. This means that we're in the top ten across all types of higher education institutions in the UK but if you look at similar universities to us - i.e. publicly-funded, research-led institutions engaged in teaching a broad range of subjects - then we're ranked fourth in the UK for student satisfaction.
"The Higher Education sector has been through a big upheaval since the introduction of higher fees in 2011 and in this brave new world, we have redoubled our efforts to ensure that every aspect of student learning and living in Aberystwyth is exceptional. We couldn't have achieved these results without the hard work of dedicated colleagues right across the University."
A new initiative has given students further opportunities to have their say across a range of issues including teaching and learning, accommodation and campus facilities.
Lauren Marks, President of the Students' Union at Aberystwyth University, said: "Aberystwyth has shown that it is a listening university which responds to students' needs. A campaign asking students what kinds of improvements they'd like to see has led to changes in areas such as timetabling, feedback and assessment, and learning resources but these changes have made a big difference to the overall experience.
"There is a real appreciation of the way in which the management team here not only leads but also listens to the voice of the student body in Aberystwyth, and works in partnership with the Students' Union. It shows that students matter and the results of the latest NSS are a reflection of the continued hard work at this university to strengthen and improve the student experience."
In recent years, there has been major investment across the board at Aberystwyth University. More than £8m has been spent upgrading teaching spaces to create learning environments which engage students and which harness the latest multimedia technology for teaching.
Aberystwyth University has also invested £45m in new student residences on Fferm Penglais which now offers some of the best student accommodation available in any university in the UK and the institution is also drawing up a detailed report on financing options for a £10m plan to re-open the Pantycelyn hall of residence.
Building work will soon be underway on a new £40.5m innovation and enterprise campus at Gogerddan, and exciting plans are being developed with the intention of transforming the Old College with an investment of up to £20m.
The NSS figures follow closely on the heels of the latest employability figures for UK universities which showed that 92% of graduates were in work or further study six months after leaving Aberystwyth University.