Hub Officer to Boost Rugby in Mid Wales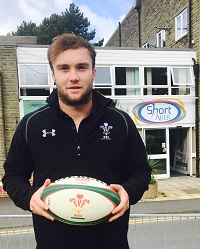 Llyr Thomas, Rugby Hub Officer at Aberystwyth University
Aberystwyth University has become the first university in Wales to appoint a dedicated Rugby Hub Officer in what is hoped will be a major boost for the grass roots of the game.
Based at Aberystwyth University's Sports Centre, Llyr Thomas's appointment will be part-funded by the WRU as he aims to revitalise rugby not only at the university but also in the wider community by providing links to local schools, clubs and other WRU supported programmes such as refereeing and coaching courses.
Starting from today [Monday 8 August 2016] the scheme will run for an initial period of three years but through close co-operation between the university, WRU and wider partners, it is hoped it can be made sustainable in the long term through raising the profile of rugby and maximising participation at all levels of the game.
Working closely with the university's Sports Centre and Sports Science Department, Llyr will be able to utilise state-of-the-art facilities to devise specialist training and nutritional regimes, in addition to looking at other aspects of the game, such as statistical analysis. However, the role will equally be about widening access to male and female players of all abilities and ensuring that those outside the men and women's 1XV and 2XV have the opportunity to experience rugby.‌
With a degree in sports science, as a full back for Aberystwyth RFC and having previously worked in a similar rugby officer role with a local school, Llyr will be able to use his experience and contacts as he seeks to build links with the community.
"I'm thrilled to be starting the new role and look forward to the challenge of growing the game and working with students from all backgrounds. For me, the most important thing is that men and women have the opportunity to play – be it those who are aspiring to go on to a higher level, through to students who may want to experience the game by playing touch, sevens or beach rugby," said Llyr.
"Not only this, but as somebody who is closely involved with the rugby scene in mid Wales, I'll be aiming to forge close links with local teams and open pathways for players into these clubs and will also be visiting schools and helping them with their rugby set-ups."
Darren Hathaway, Aberystwyth
University's Sports Centre General Manager, said: "This is a fantastic opportunity to be involved in an initiative which aims to grow the grass roots of the game. It's vital to have a vibrant university and club scene in order to increase participation, raise standards and give everyone a clear pathway to play. Llyr's appointment builds on the back of AUMRFC achievements in winning the Western 3B Conference and the Central Wales Cup final in 2016."
WRU relationships manager Adrian Evans said, "We are thrilled to have Aberystwyth University on board as our first higher education rugby hub. Universities offer an excellent opportunity to engage and retain young adults within all formats of rugby, and having a hub officer will provide additional opportunities for students to play, but also coach, referee and manage games and teams.
"The aim is to cater for everyone who signs up for rugby in Freshers' week and beyond, whether they want to progress and play 15-a-side rugby competitively, or enjoy social, intra-mural touch rugby. We know that a large proportion of students stay in the area after completing their studies, and it's a key priority for us to make links for the long-term with local clubs."
Julie McKeown, Head of Marketing at Aberystwyth University, said: "We are really pleased to be working closely with WRU culminating in being the first university to have a Hub officer. Rugby is an integral force in Wales and is a way of bringing communities together. As a university with a strong community focus, we are delighted to be part of this great initiative to help young people through sport."