QAA Quality Mark for Aberystwyth University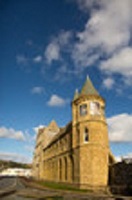 Aberystwyth University has welcomed the latest review of the Quality Assurance Agency for Higher Education confirming the quality and standards of its provision.
A team of QAA reviewers visited Aberystwyth in April 2016 and their report published Friday 5 August 2016 judged that the University's academic standards, the quality and enhancement of its student learning opportunities, and the quality of information about its learning opportunities all meet UK expectations.
The review identified as institutional good practice the University's pre-enrolment process and personalised support for students, including those with specific learning needs, which facilitates their entry to the University.
Professor John Grattan, Acting Vice-Chancellor at Aberystwyth University, said: 'I am delighted that the quality and standards of provision at Aberystwyth University have been endorsed by QAA. The positive findings of QAA's latest review are testament to the dedication of our staff who work hard at all times to ensure that our academic standards and the quality of our student learning opportunities meet UK expectations.
'We are pleased that the review team highlighted as an example of good practice the pre-enrolment process and personalised support for new students which we offer at Aberystwyth, in particular for those with specific learning needs. This finding underlines one of our main priorities here at Aberystwyth which is to enhance all aspects of the student experience.
'We value the engagement of QAA with the University in their role as critical friends. The recommendations of the review team will guide us in the year ahead as we continue to develop our quality assurance and enhancement activities further. This will ensure that we remain responsive to the needs of our students and continue to ensure that Aberystwyth is an exceptional place to learn and live.'
As is usual practice, the review also made some recommendations for improvements which the University is already addressing in an action plan. They include:
ensuring the systematic involvement of students as partners in programme approval and review, and the enhancement of the student experience
ensuring that a consistent approach to academic appeals is practised within and across institutes
ensuring consistency of core information provided to students in handbooks within and across institutes.
QAA's Higher Education Reviews are carried out by experts from other universities and colleges. Every review team includes a student reviewer, because QAA believes that students should be partners in the quality assurance of their education.
The team that reviewed Aberystwyth University comprised Professor Hastings McKenzie (Staffordshire University), Claire Morgan (Cardiff Metropolitan University), Professor Denis Wright (Imperial College of Science, Technology and Medicine) and Sarah Crook (student reviewer, Queen Mary University of London).
A successful review means that the University can display the QAA Quality Mark, indicating to UK and international students that the University meets UK requirements for standards and quality.
The full report can be viewed on the QAA website https://www.qaa.ac.uk/reviewing-higher-education/quality-assurance-reports/Aberystwyth-University#