Aberystwyth University at Abergavenny Eisteddfod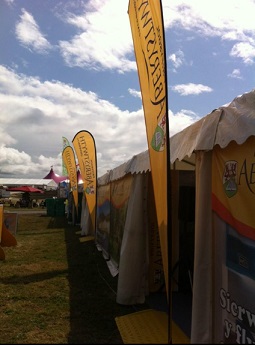 From the history of television in Wales to Karate and ketchup fights, Aberystwyth University has a whole range of activities planned for its stand at this year's Monmouthshire and District National Eisteddfod in Abergavenny.
At 10.30am on Monday 1 August, senior lecturer Dr Jamie Medhurst looks at the relationship between television and society in Wales and talks about his latest research funded by a Leverhulme grant.
One of Dr Medhurst's colleagues in the Department of Theatre, Film and Television Studies, Dr Gareth Llŷr Evans, will lead a special Live Art workshop on Tuesday 2 August which could including drawing on the back of an adult, wearing food or even a ketchup fight.
And fifteen years since they came to Aber as freshers, Dr Hywel Griffiths and Eurig Salisbury share some of their stories and the poems they've written since 2001 on Thursday 4 August. Both are now chaired bards and both work as lecturers at Aberystwyth University – the former in the Department of Geography & Earth Sciences and the latter in the Welsh Department.
As usual, our popular reunion reception for former students will be held on Wednesday 3 August with an event for current UMCA students on Friday 5 August.
If you just want a break after walking around the maes, there's always a chair and a cup of tea on offer as well as plenty of company.
You can check out our full programme of events and activities for the 2016 Monmouthshire and District National Eisteddfod on our website.
Aberystwyth University's main stand isn't the only place to see staff at work on the Eisteddfod field. In the Societies Pavilion at 1pm on Monday 1 August, Dr Hywel Griffiths will deliver the Science Lecture which is sponsored by the Coleg Cymraeg Cenedlaethol. His talk will be on geomorphology - the origin and evolution of landscapes.
On Thursday 4 August, Aberystwyth University will launch an exciting new postgraduate course in Professional Translation on the stand of the Coleg Cymraeg Cenedlaethol which is one of the main partners.
Aberystwyth University is also the main sponsor of the Science and Technology Pavilion this year where you can find out about some of our cutting-edge research as well as milk 'Seren' the mechanical cow, potting plants and watch our Afon Fach river demonstration. Other exhibits organised by our Institute of Mathematics, Physics and Computer Science with funding from the Institute of Physics include a mini robots and a robotic boat, maths puzzles, 3D imaging of Mars and making synthetic diamonds.
We're also sponsoring Maes B, the main Welsh-language rock and pop music festival which is held as part of the Eisteddfod every year.
"The National Eisteddfod is one of the highlights of the year for Aberystwyth University. It's a great opportunity to share some of our research and our ideas with a wider audience through lectures, events and activities, "said Dr Rhodri Llwyd Morgan, Pro Vice-Chancellor at Aberystwyth University.
"It's also a chance to meet and inspire future students, to catch up with current students and to reconnect with our alumni and other supporters, It's going to be a busy week but we look forward to welcoming visitors old and new to our stand at Abergavenny."