Family Celebrates Fifth Aber Graduate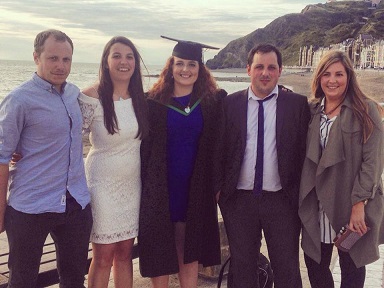 L-R: Sion ap Glyn, Beca Glyn, Mirain ap Glyn, Llyr Serw ap Glyn and Heledd Dylasau.
As Mirain Glyn graduated from Aberystwyth University in July 2016, the occasion marked the end of an era for the family from Gwynedd.
She was the last of the five Glyn siblings to graduate from Aberystwyth University, with the first being her brother Sion who began the trend back in 2005. Since then, each member of the family has made the journey down from Betws-y-Coed to study in Ceredigion.
Aberystwyth University is renowned for the quality of its education as well as its friendly atmosphere and often when one member of the family has been, others follow - but this is a record which will be difficult to beat.
For the past eleven years, a member of the Glyn family has been living and studying in Aberystwyth and the town is like a second home for them as Mirain explains: "My family has been visiting and attending Aberystwyth University for so long, it's like a home from home for us. I was only ten when I first came here with Sion but it must have made quite an impression.
"Like my brothers and sisters I never wanted to go anywhere else and will be sorry to leave. We've all made great friends and have wonderful memories - and what other University can boast such a beautiful coastline!"
Since finishing their studies they have all progressed in their various career fields.
The eldest, Sion graduated in 2008 in Politics and History and stayed on to do a PGCE at the University. He now works as a Communications Officer in Cardiff while brother Llyr graduated in 2009 in Law and is now a Tribunal Officer with the Valuation Tribunal Wales for the Welsh Government.
Next came the three sisters with Heledd graduating in 2011 with a BA Honours Degree in Welsh and now a primary teacher in Fron Goch, Bala. Beca graduated last year in Agriculture and Business Studies, and after a three-month period in New Zealand she has now returned to work on the family farm alongside her father.
Finally, Mirain graduated this year with a BA in Education and Childhood Studies. During her time at Aberystwyth, she has been an ambassador and Welsh representative for the Life-Long Learning department, a member of the UMCA Welsh Students' Union, Y Geltaidd and has played for the Welsh women's rugby team.
According to Professor Rhodri Llwyd Morgan, Pro Vice Chancellor of Welsh Language and Culture and External Engagement at Aberystwyth University, the strong family environment, coupled with excellent teaching standards makes Aberystwyth appealing for many siblings,
"It's no surprise to us that family members tend to follow each other's footsteps here but even by our own standards this is quite a record. Our emphasis on developing a friendly and welcoming atmosphere along with our focus on promoting the Welsh language and culture is highlighted constantly by students and parents alike. It is an end of a wonderful era for the Glyn family but as with all our former students, they will always be welcomed back."

AU24116