BBC Radio 1's Aled Haydn Jones presented with Honorary Bachelor of Arts Degree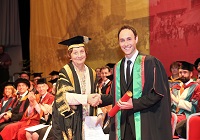 Aled Haydn Jones receiving Honorary Bachelor of Arts Degree from Pro-Chancellor, Mrs Elizabeth France CBE
BBC Radio 1's Aled Haydn Jones was today awarded an Honorary Bachelor of Arts Degree from Aberystwyth University.
Born, bred and educated in Aberystwyth, Aled began his media career working on local hospital radio in Aberystwyth and at Radio Ceredigion.
After saving up his money working at his parents' cafe, Caffi Morgan in Aberystwyth, he made the leap to London to work with the BBC, where he has been for the last twenty years.
At BBC Radio 1 he climbed the ranks from being runner on the Radio 1 Roadshows to producing the station's longest running Breakfast Show with Chris Moyles and the team, broadcasting the show live from Aberystwyth on several occasions.  Aled was also host of The Surgery giving advice to vulnerable teenagers live on air for six years.
He has also been an S4C presenter on the WawFfactor, Cân i Gymru and on his own show Llond Ceg discussing the issues that young Welsh people face.
Aled now manages Radio 1 Weekend shows and events including The Teen Awards and Big Weekend.
Aled Haydn Jones was presented on Friday 15 July by Aberystwyth University Students' Union President, Lauren Marks.
Presentation of Aled Haydn Jones
Dirprwy Ganghellor, Is-Ganghellor, darpar raddedigion, gyfeillion. Pleser o'r mwyaf yw cyflwyno Aled Haydn Jones am radd Baglor er Anrhydedd yn y Celfyddydau Prifysgol Aberystwyth.
Pro Chancellor, Vice-Chancellor, prospective graduates and supporters. It is an honour and a privilege to present Aled Haydn Jones for an Honorary Bachelor Degree of Arts of Aberystwyth University.
Aled was born in Aberystwyth in 1976, to his parents Haydn and Ann, and his family were owners of Caffi Morgan – one of Aberystwyth's most popular local cafés.
He attended Ysgol Gymraeg Aberystwyth and Ysgol Gyfun Penweddig – welsh medium primary and secondary schools respectively, completed his BTEC in Media Studies at Swansea College, and is a fluent Welsh speaker.
His radio career began at 14 years old, when he was the presenter of a slot on Radio Bronglais Aberystwyth. He joined the commercial radio station Radio Ceredigion after its launch in 1992, and eventually joined the infamous BBC Radio 1 as a broadcast assistant in 1998.
Aled, aka 'BB Aled', is possibly most known for his role on DJ Chris Moyles' team, first joining the afternoon broadcast show, and overseeing the launch of the Chris Moyles Breakfast Show in 2004 – Radio 1's longest ever running breakfast show.
In 2008, Aled took the reigns as the presenter of Radio 1's The Surgery on Sunday nights, facilitating young audiences to find sensible solutions to the problems they contact the show with.
Aled is a proud Aberystwythian, and regularly promotes the town to listeners, and has been heavily involved in broadcasts from Aberystwyth.
Aled is an incredible advocate for young people, and also chairs the Teen Heroes Panel, who along with youth charities, Radio 1 DJs and celebrities including Professor Green, choose three exceptional and courageous young people to receive Radio 1 Teen Heroes Awards.
He also presented The B Word for BBC Radio 1 Wales, and Social Action Bullying for BBC Wales, both shows looking at the effects of bullying and how to combat it.
He has hosted and chaired several forums for young people including The Big Conversation on Radio 1.
Aled is constantly working to give young people a voice; he has chaired Get Hired Live at Wembley, an event for graduates to find employment at UK companies, chaired a Youth Health Conference funded by Birmingham Children's Hospital for young people to share their thoughts on the NHS, and was a guest speaker at Big Ideas Wales Challenge, giving motivational talks to young entrepreneurs.
Aled has also been a host for The Welsh Tourism Awards.
Dirprwy Ganghellor, mae'n bleser gen i gyflwyno Aled Haydn Jones i chi am radd Baglor er Anrhydedd yn y Celfyddydau.
Pro Chancellor, it is my absolute pleasure to present Aled Haydn Jones to you for an Honorary Bachelor Degree of Arts.
Aberystwyth University Honours 2016
Twelve individuals are being honoured by Aberystwyth University during the 2016 graduation ceremonies, which take place at the University's Arts Centre from Tuesday 12 July until Friday 15 July.
Eight Honorary Fellowships will be presented to individuals who have, or have had a connection with Aberystwyth or Wales, and who have made an outstanding contribution to their chosen field.
One Honorary Doctorate degree will be presented. These are presented to individuals who have been outstandingly successful in their field, or who have a long record of renowned research and publication.
Three Honorary Bachelor degrees will be presented. These are presented to individuals who are members of Aberystwyth University staff without an entry-level degree in recognition of long-service, contribution and dedication to the Institution; and members of the local community who have made a significant contribution to Aberystwyth and the area.
Also being honoured are:
Honorary Fellowships:
Dr Catherine Bishop, triple Olympian, international conflict diplomat and experienced speaker and facilitator
Natasha Devon MBE, writer, campaigner, television pundit, and founder of the Self Esteem Team
Professor Julian Dowdeswell, Director of the Scott Polar Research Institute and a Professor of Physical Geography at the University of Cambridge
Charmian Gooch, anti-corruption campaigner and co-founder and director of Global Witness
Ruth Lambert MBE, former Chairman of the Machynlleth Tabernacle Trust, who organised the Machynlleth Festival and the exhibition programme of MOMA (Museum of Modern Art) Machynlleth for almost thirty years
Dr Mitch Robinson, international law specialist for the US Department of Defense specialising in human rights, and an alumnus of the University
Sir Evans Paul Silk KCB, President of the Study of Parliament Group; formerly clerk in the British House of Commons, Clerk to the National Assembly for Wales and chair of the Commission on Devolution in Wales
A J S "Bill" Williams MBE (1920-2016), RAF pilot and Aberystwyth University lecturer named in 2014 as one of the Royal Society of Chemistry's 175 Faces of Chemistry.
Honorary Doctorate Degree:
Professor Ken Walters, Distinguished Research Professor in the University's Institute of Mathematics, Physics and Computer Science, founding fellow of the Learned Society of Wales and a Fellow of the Royal Society
Honorary Bachelor Degrees:
Karina Shaw, Assistant Headteacher at Ysgol Penglais, Aberystwyth, Director of the Penparcau Community Forum, founder member and current Chairwoman of the Penparcau History and Heritage group, and charity volunteer
Stefan Osgood (1994-2016), who achieved and contributed a great deal while studying at Aberystwyth, including through his involvement in sports, and as an exceptional contributor to Raising and Giving at the University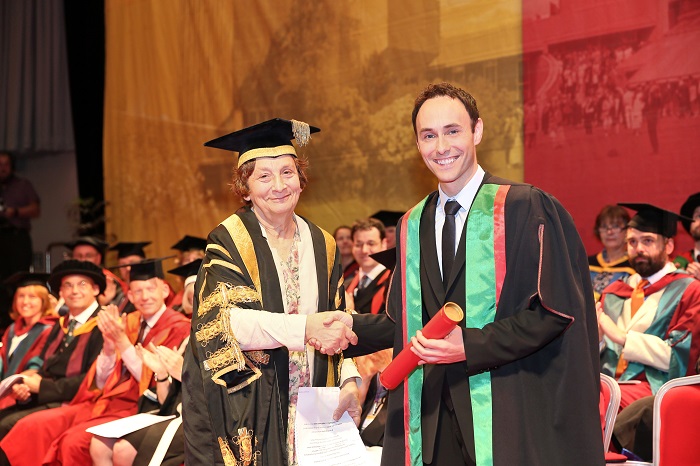 Aled Haydn Jones receiving Honorary Bachelor of Arts Degree from Pro-Chancellor, Mrs Elizabeth France CBE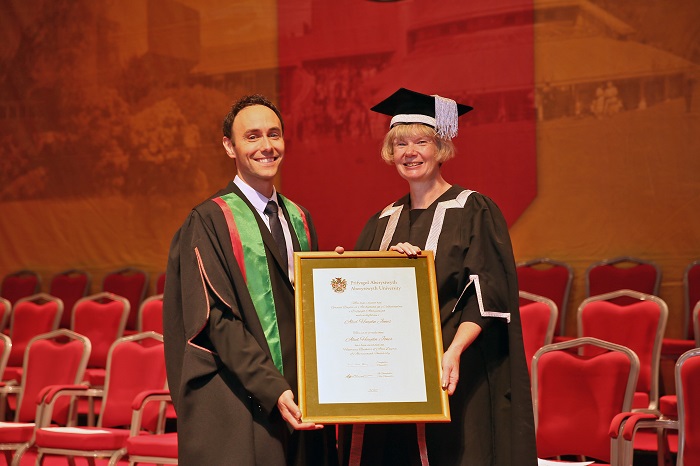 Aled Haydn Jones with Vice-Chancellor, Professor April McMahon
‌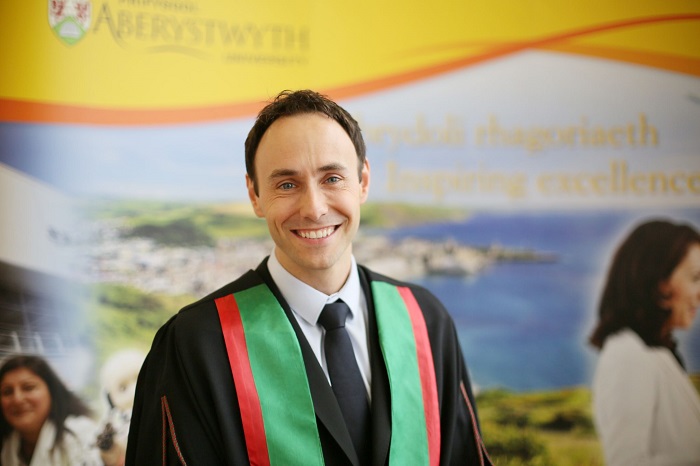 Aled Haydn Jones
‌