Sir Paul Silk KCB honoured as Fellow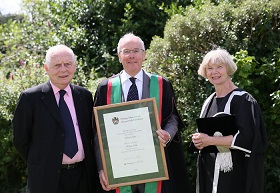 Chancellor Sir Emyr Jones Parry, Sir Evan Paul Silk KCB and Vice-Chancellor Professor April McMahon
Sir Evan Paul Silk KCB has been presented with an Honorary Fellowship of Aberystwyth University.
A native of Crickhowell, Sir Paul attended school in Brecon before further education at Oxford, Princeton (USA) and the Open University.
Most of his professional career was as a Clerk in the House of Commons. From 2001 to 2007 he was Clerk to the National Assembly for Wales. He was then Director of Strategic Projects in the House of Commons from 2007 to 2010. From 2011 to 2014 he chaired the Commission on Devolution in Wales.
An honorary Professor in the Department of Politics and International Relations at Cardiff University, he is also President of the Study of Parliament Group, and has written and lectured extensively on Parliament and the constitution.
He was appointed Knight Commander of the Order of the Bath in the 2015 New Year Honours for services to Parliaments and to devolution.
Sir Paul was presented as Fellow on Wednesday 13 July by Dr Elin Royles from the Department of International Politics.
Presentation of Sir Evan Paul Silk KCB
Ganghellor, Is-Ganghellor, ddarpar raddedigion, gyfeillion. Pleser o'r mwyaf yw cyflwyno Syr Evan Paul Silk yn gymrawd Prifysgol Aberystwyth.
Mae Paul wedi gwneud cyfraniad aruthrol i fywyd cyhoeddus Cymru a'r Deyrnas Gyfunol drwy rolau blaenllaw yn Nhy'r Cyffredin, ac fel Clerc bu'n amlwg yn broses o arwain y Cynulliad Cenedlaethol o'i ddechreuadau digon simsan i dyfu'n ddeddfwrfa seneddol gydnabyddedig.
Chancellor, Vice-Chancellor, prospective graduates and supporters. It is an honour and a privilege to present Sir Evan Paul Silk as a Fellow of Aberystwyth University.
Paul is a native of Crickhowell, and was educated at Oxford, Princeton and the Open University. He has made a substantial contribution to public life in Wales and in the United Kingdom. This is evidenced in being appointed KCB in 2015 for services to Parliaments and to devolution.
Most of his professional career was spent in the House of Commons. Amongst his notable roles, he served as a Clerk of two of the house's most important and influential committees: the Foreign Affairs and Home Affairs Committees.
In 2001, Paul became the Clerk to the National Assembly for Wales at a time when the two year old institution wasn't quite what it is today in its iconic Cardiff Bay building. Paul played a critical role in a process that empowered a fragile institution to the status of a parliamentary body that now takes its proper place among the legislatures of the United Kingdom and sub-state governments in Europe.
Building on this, Paul chaired the UK Government's Commission on Devolution in Wales from 2011 to 2014. The Commission's two reports paved the way for the beginnings of tax devolution to Wales in the Wales Act 2014 and for strengthening the legislative powers of the Assembly in the Draft Wales Bill that is currently under scrutiny. The Commission set a clear direction for devolution to Wales, one that remains challenging to some within parties at the UK level and in Whitehall. 'Silk' stands alongside other surnames such as Kilbrandon, Richard, Calman as reports of high importance to devolution and therefore to the integrity of the United Kingdom. 
Dan gadeiryddiaeth Paul, cynhaliodd y Comisiwn drafodaethau trylwyr gan bwyso a mesur ystod o dystiolaeth o Gymru ac yn rhyngwladol. Dangosodd y Comisiwn argyhoeddiad ac ymrwymiad i osod egwyddorion a seiliau cadarn i drefniadau datganoli yng Nghymru. Mae ei gyfraniad i sefydlu trefniadau democrataidd gwydn yn ymestyn dramor hefyd.
Paul has also participated in a number of programmes for emerging democracies in places such as Iraq and Afghanistan. His contributions to democracy promotion initiatives, often in dangerous places, are testimony to his commitment to disseminating best practice regarding representation and the work of legislatures in territories that have in their recent past faced radically different governance records, and where instituting appropriate democratic arrangements is challenging.
Paul's commitment to public life in Wales, in the United Kingdom and in sharing that best practice abroad is something to aspire to for all of us.
As prospective graduates, you have had the incredible privilege of a world-class education. As you move onto the next chapter in your academic or working lives, I'd encourage you to consider Paul's example and think about how best to use your education to contribute to a better world.
Mae'n fraint i mi yn bersonol, ac i'r Brifysgol, i gydnabod a dathlu cyfraniad aruthrol a pharhaus Paul i fywyd cyhoeddus Cymru a'r Deyrnas Gyfunol. Ganghellor, mae'n bleser gen i gyflwyno Sir Paul Silk i chi yn Gymrawd Prifysgol Aberystwyth.
Chancellor, it is my absolute pleasure to present Sir Paul Silk to you as a Fellow of Aberystwyth University.
Aberystwyth University Honours 2016
Twelve individuals are being honoured by Aberystwyth University during the 2016 graduation ceremonies, which take place at the University's Arts Centre from Tuesday 12 July until Friday 15 July.
Eight Honorary Fellowships will be presented to individuals who have, or have had a connection with Aberystwyth or Wales, and who have made an outstanding contribution to their chosen field.
One Honorary Doctorate degree will be presented. These are presented to individuals who have been outstandingly successful in their field, or who have a long record of renowned research and publication.
Three Honorary Bachelor degrees will be presented. These are presented to individuals who are members of Aberystwyth University staff without an entry-level degree in recognition of long-service, contribution and dedication to the Institution; and members of the local community who have made a significant contribution to Aberystwyth and the area.
Also being honoured are:
Honorary Fellowships:
Dr Catherine Bishop, triple Olympian, international conflict diplomat and experienced speaker and facilitator
Natasha Devon MBE, writer, campaigner, television pundit, and founder of the Self Esteem Team
Professor Julian Dowdeswell, Director of the Scott Polar Research Institute and a Professor of Physical Geography at the University of Cambridge
Charmian Gooch, anti-corruption campaigner and co-founder and director of Global Witness
Ruth Lambert MBE, former Chairman of the Machynlleth Tabernacle Trust, who organised the Machynlleth Festival and the exhibition programme of MOMA (Museum of Modern Art) Machynlleth for almost thirty years
Dr Mitch Robinson, international law specialist for the US Department of Defense specialising in human rights, and an alumnus of the University
A J S "Bill" Williams MBE (1920-2016), RAF pilot and Aberystwyth University lecturer named in 2014 as one of the Royal Society of Chemistry's 175 Faces of Chemistry.
Honorary Doctorate Degree:
Professor Ken Walters, Distinguished Research Professor in the University's Institute of Mathematics, Physics and Computer Science, founding fellow of the Learned Society of Wales and a Fellow of the Royal Society
Honorary Bachelor Degrees:
Karina Shaw, Assistant Headteacher at Ysgol Penglais, Aberystwyth, Director of the Penparcau Community Forum, founder member and current Chairwoman of the Penparcau History and Heritage group, and charity volunteer
Aled Haydn Jones, Welsh radio editor, presenter and former radio producer with BBC Radio 1, and presenter with S4C.
Stefan Osgood (1994-2016), who achieved and contributed a great deal while studying at Aberystwyth, including through his involvement in sports, and as an exceptional contributor to Raising and Giving at the University.
AU21416
Chancellor Sir Emyr Jones Parry, Sir Evan Paul Silk KCB and Vice-Chancellor Professor April McMahon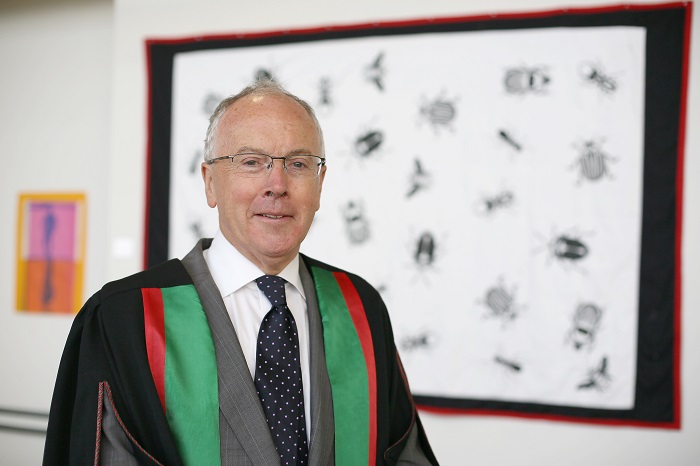 Sir Paul Silk KCB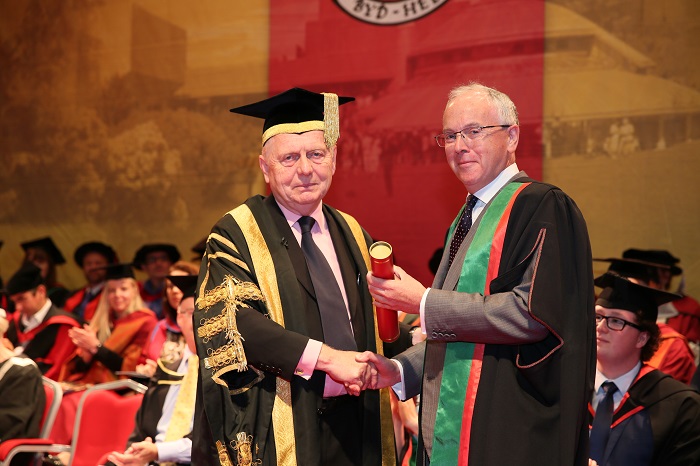 Chancellor Sir Emyr Jones Parry with Sir Paul Silk KCB