More Aber Graduates Getting Jobs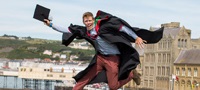 There's been another improvement in the percentage of Aberystwyth University graduates getting jobs.
New figures released by the Higher Education Statistics Authority (HESA) show that the number of graduates in work or further study have improved over the past year.
Compared to the previous year, Aberystwyth saw a two percentage point rise which is above the one percentage point rise seen across Wales and the UK.
The latest increase follows a significant jump in the employability rating of Aberystwyth University last year and is part of a continuing upward trend.
Aberystwyth University figures show that 92% of our full-time first degree students were either in any work or further study within six months of graduating.
The proportion of Aberystwyth University students finding graduate-level employment has also risen by eight percentage points, compared to a rise of three percentage points across the UK.
When we spoke to our 2015 graduates six months' after leaving, we found that an average of 68.5% were in graduate-level jobs – a 6 percentage point increase on 2014 and builds on that year's significant nine percentage point rise in the figure.
Several departments at Aberystwyth University are seeing exceptionally high levels of graduates entering work or further study and are outperforming UK rates for subject employability. These include Welsh (100%), Computer Science (93% compared to the UK figure of 87%), Modern Languages (93% compared to the UK figure of 88%), Art (92% compared to the UK figure of 63%); and Law (93% compared to the UK figure of 90%).
"At Aberystwyth, we work hard to ensure that our students get an exceptional education and experience during their time here. But we're also very focussed on making sure that they can find good jobs after they graduate," said Professor John Grattan, Acting Vice-Chancellor at Aberystwyth University.
"We have put in place a range of ambitious initiatives to prepare our students for those important first career steps after their degree and these latest figures released by HESA show that our programmes are working effectively for the benefit of Aberystwyth graduates."
Steps taken by Aberystwyth University to help students' pathway from campus to career include the AberForward and AberTemps initiatives which offer internship opportunities and paid work experience and while they are studying; and our Year in Employment Scheme as well as the integrated Year in Industry options offered by individual degree schemes.
Alex Stuart who graduated with a BSc in Computer Science in 2015 is now working as a Mainframe Technology Graduate at Experian. He says the year he spent in industry as part of his degree programme gave him invaluable experience when it came to finding a job.
"Not only did my Industry Year provide experience working in a complex technical role for an international company, it also solidly defined my attitude to work for future employers," said Alex.
"My current role at Experian includes a period working in the USA, so the fact that I had already shown my ability to handle the challenges of emigration and the cultural barriers that can arise when working abroad undoubtedly helped my application for the position."
We've been speaking to other Aber graduates to find out where they're working now and what advice they have for current students. You can read their stories in our Employability pages (https://www.aber.ac.uk/en/news/employability/) and find out more about how our Careers' Service can help find that dream job.