Digital Wizards on Campus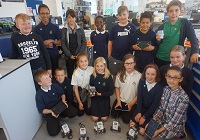 The schoolchildren from Plascrug School with their robots.
A group of local schoolchildren chose to visit Aberystwyth University's Computer Science Department as part of an end of year trip on Friday 1 July.
The 'Digital Wizards' from Ysgol Plascrug School in Aberystwyth visited campus to find out more about the Institute of Maths, Physics and Computer Science (IMPACS) and to try their hand at building robots in one of the laboratories.
The Year 6 pupils decided they would like to discover more about the Institute's work after taking part in computer coding classes at the school.
Dr Martin Nelmes, Teaching Fellow at the Computer Science Department, said: "It has been a pleasure working with Ysgol Plascrug's Digital Wizards and we were delighted that they chose to visit the Institute. This type of activity is vital to engage young learners in enjoying computer science."
Aberystwyth University is also host to Aberystwyth Robotics Club. Supported by the Infinity Exhibition, Aberystwyth Robotics Club is an afterschool club for 11-18 year olds.
AU20416