Old College Project Bid Continues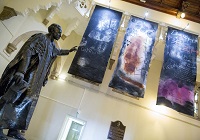 Aberystwyth University Council has reaffirmed its intention to redevelop the Old College and an application to the Heritage Lottery Fund (HLF) will be resubmitted in December 2016 after narrowly missing out on funding at the end of April.
At its meeting in the Old College (Wednesday 29 June 2016), members of the Council agreed to proceed with the University's bid for stage one development funding for the project from the HLF.
Aberystwyth University has been encouraged by the feedback received from HLF on ways of developing the project further and, with widespread support behind the plans, is confident that a revised proposal will have an excellent chance of being approved.
Louise Jagger, Director of Development and Alumni Relations at Aberystwyth University said, "We always knew it was a highly competitive first round and are therefore determined to keep up the momentum for this excellent project and provide a fantastic facility for showcasing learning, research and enterprise opportunities that will inspire users and visitors and boost the economy."
"From what we understand, the project was well received and the outcome was more to do with having to take decisions on more projects than the available budget would allow. It's often the case that projects that are ultimately successful need to be re-submitted in response to feedback."
Originally built as a hotel, Old College welcomed its first cohort of students in 1872 following a tremendous fundraising campaign across Wales to help buy the building, in order to establish within it the first University College in Wales.
A Grade I listed building, Old College is recognised as one of the UK's most significant nineteenth-century buildings, in Gothic revival style.
TheNew Life for Old College project bid was developed by the University along with the Project Board, which brought together members of the University Council, University staff, and representatives from Ceredigion County Council, Aberystwyth Town Council, Aberystwyth Students' Union and the Old Students Association.
Pro Vice-Chancellor Dr Rhodri Llwyd Morgan said, "We had widespread support during the development of the plans locally and among institutions in the region and across Wales. The project has been shaped with a great deal of input by the local community through numerous public events and we very much appreciate their key role in developing and supporting our vision.
"We'll continue working on a varied programme of activities – such as the successful Community Day which was held in the Old College on Saturday 18 June 2016. We'll also continue to work closely with the Heritage Lottery Fund and stakeholders to explore how we can strengthen any future proposal."