EU Referendum Podcast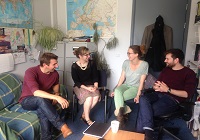 The result of the EU referendum has raised a whole raft of questions. What happens next? What are the implications of the vote for Wales, the UK and the EU?
For their latest podcast, Dyfan Powel from the Institute of Welsh Politics (IWP) at Aberystwyth has brought together a panel of experts to discuss some of the main issues.
"Following a close but seismic vote, the people of Wales, Britain and the world are now trying to understand the implications. In a situation like this and in a democratic society, academic experts have an important role to play in helping make sense of the world around us," said Dyfan Powel who's a PhD student in the Department of International Politics at Aberystwyth University.
"That's what we've tried to do in our latest podcast where academics from the International Politics Department, who are experts on Europe, analyse and explain what's happened, and what may happen as a result of the UK's decision to leave the EU."
All four contributors are from the Department of International Politics at Aberystwyth University, with Dyfan Powel leading the debate: