Young Entrepreneurs Face Aber Dragons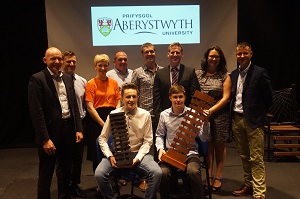 Thomas Rees-Jones and Aaron Bull holding their winning lamps alongside the Dragons and staff from Aberystwyth University
The winners of a Dragon's Den-style competition involving sixth form pupils from Ysgol Penweddig have been announced at a special event organised by Aberystwyth University.
The students had been given the opportunity to pitch their business ideas to five fierce Dragons in May and at an awards ceremony last night (Wednesday 22 June), they had a chance to watch their presentations and the Dragons' comments on the big screen.
Having been asked to devise a product that tied in with the theme of "Nature", the first prize went to design duo Aaron Bull and Thomas Rees-Jones, Ieuan Evans came second and Daniel Davies third.
Talking about their creative partnership Aaron Bull said, "We really enjoyed taking part in this competition and bringing our design project to life. It was terrifying standing up and pitching our ideas to the five Dragons. It was just like you see on the television, very nerve-wrecking. We are thrilled to have won and this experience will definitely inspire us in the future."
The Ffau'r Ddraig Aber project is a collaboration run by the School of Management and Business (SMB) and the Department for Theatre, Film and Television Studies (TFTS). It is funded by the Coleg Cymraeg Cenedlaethol with the aim of developing entrepreneurial and business skills.
Penweddig teacher Gerallt Williams added, "For the pupils it has been an inspirational experience and has shown them how you can apply what they have learnt in the classroom to develop actual products and then the next stage on how to take the product to market. Three lecturers from SMB, Robert Bowen, Wyn Morris and Nerys Fuller-Love, visited the school to help guide students on the business side of their products in preparation for their pitch in front of the Dragons which was invaluable."
One of the organisers from Aberystwyth University's SMB, Robert Bowen, believes this is an important way to help develop life skills, "Following the success last year involving pupils from Penglais School, this year's edition was run entirely in Welsh, with Design and Technology pupils from Ysgol Penweddig taking part. It was great to see the progression of how the school pupils had taken their product, which they designed and built themselves, and developed a vision for how this could be developed into a business.
"As an event, it has been great to work with Ysgol Penweddig and TFTS, as being able to film in the style of the television series and playback the event to a live audience gave it an additional edge."
The local business people invited to act as the Dragons included Llion Pughe, SMB alumna and Director of Y Gorau o Gymru/Best of Wales; Rhiannon Rees, SMB alumna and Director of Rhiannon Rees Property; Sion Edwards, Director of Aber Letting; Lowri Steffan, actress and owner of Dots shop in Aberystwyth; and James Raw, a local entrepreneur.
Lowri Steffan said, "The design ideas the students put forward were excellent - imaginative and truly inspirational. The theme was nature so not the easiest of themes to develop but you could see they had really thought their concepts through."