Aberystwyth University hosts UK's first academic wrestling symposium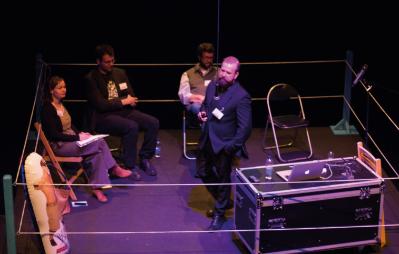 One of the panels in the ring at the wrestling symposium at Aberystwyth University.
Aberystwyth University proved itself to be a heavyweight contender in wrestling academia after hosting the UK's first academic symposium on professional wrestling.
The symposium attracted keynote academics, journalists and film-makers from around the UK in addition to contributors from universities in Amsterdam and America, including the prestigious Massachusetts Institute of Technology (MIT).
The aim of the symposium was to champion this emerging scholarly field and was organised by Thomas Alcott, a third year PhD student in the Department of Theatre, Film and Television Studies at Aberystwyth University.
"The event gave delegates a chance to come together, network and ensure we develop a universal dialect across the different fields of research so that we can develop as a single, coherent, multi-disciplined study of professional wrestling."
In true wrestling style, the Parry Williams building was transformed into a retro wrestling arena, complete with ring and authentic lighting, creating the perfect stage for the world's experts to grapple with the latest developments within the field.
"Among the diverse topics discussed were different representations – including female identity – within professional wrestling, the political economy of wrestling and professional wrestling as a modern-day morality play. Our keynote speaker was Professor Peter Hutchings who discussed performance and hyperbole and the role of Dwayne 'The Rock' Johnson within the sport," explained Thomas, who received funding for his doctorate from Aberystwyth University's Alumni Fund.
"Without the Alumni fund I would never have been able to accept my PhD place at the university or organise this symposium and I am extremely grateful that their support has allowed me to pursue what has been my dream."
The two-day event, 17-18 June, consisted of a busy schedule for delegates with five panels of speakers taking to the ring in addition to theatrical performances and film documentaries. It was the first event to bring scholars from this area together to discuss their work as well as having other voices from outside of academia such as wrestling journalist and podcaster James Truepenny and theatre writer/director Alex Brockie.
Head of the Theatre, Film and Television department, Dr Anwen Jones said: "The department's PhD students are key contributors to the development of scholarly fields of enquiry and we were extremely proud to be able to showcase this innovative work on wrestling, an area of work not often associated with academic studies."
The event was supported by the Institute of Literature, Languages and Creative Arts (ILLCA) and the Post-Graduate Centre at Aberystwyth University, with assistance from the Department of Theatre, Film and Television's technical team.
AU20216