Aberystwyth lecturer curating Edinburgh International Film Festival's Black Box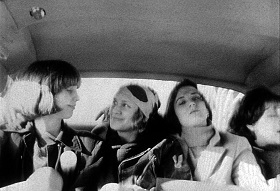 Lizzie Borden's Regrouping (1976). Copyright: UCLA Film and Television Archive
Lecturer in Film Studies at Aberystwyth University, Dr Kim Knowles, is curating the celebrated Black Box programming strand at the Edinburgh International Film Festival (EIFF) which starts today and runs until Sunday 26 June.
Showcasing the best in experimental filmmaking, Black Box combines thought-provoking and inventive new works with retrospectives and special events. It is supported by Aberystwyth University's Department of Theatre, Film and Television Studies and LUX Scotland.
Having completed a PhD in Film Studies at the University of Edinburgh in 2007, Kim joined the Department of Theatre, Film and Television Studies at Aberystwyth University in 2011. This is the eighth year that she has curated the Black Box strand at EIFF.
She commented: "It is one of the greatest pleasures in life to be able to share your passion with other people and I'm still as excited about bringing new and innovative works to audiences as I was in my first year, when I was still viewing films on VHS tapes!"
"I love having the opportunity to bring audiences to a seriously under-represented area of filmmaking, and being able to give something back to people passionately pursuing their art on the margins of more commercial film production."
Head of the Department of Theatre, Film and Television Studies at Aberystwyth University, Dr Anwen Jones, said: "The Department is thrilled that Kim's expertise and enthusiasm have led to this engagementwith EIFF. Kim's involvement has directly benefitted three departmental students who have been given industry passes to the event, and it is invaluable for both departmental staff and students to have access to and presence at an event of this stature and significance."
For this year's Black Box, Kim has selected an exciting lineup of new works and historical explorations. From the playfully abstract to the politically engaged, the schedule includes four shorts programmes dealing with the body and technology, journeys and discoveries, ritual and transformation, and matters of the environment.
In the context of the EIFF's 70th anniversary, Black Box also revisits the 1970s with two retrospective screenings and a special event celebrating one of the most important periods in the history of the Festival.
One of the highlights will be only the fourth ever screening of Lizzie Borden's Regrouping, which was premiered at EIFF in 1976. Regrouping turns what started out as a documentary about a women's group in the heady climate of second wave feminism in New York into a self-reflexive and formally complex film-within-a-film. Borden is best known for her uncompromising feminist works Born in Flames (1983) and Working Girls (1986). This landmark screening of her debut feature sits at the heart of the Black Box Retrospective, a series of events and screenings celebrating avant-garde and feminist filmmaking in the 1970s.
Curator Kim said: "It's thrilling to be able to screen Borden's Regrouping for only the fourth time in its history. Many people will be familiar with the feminist classic Born in Flames, but her first feature has been kept in the closet for forty years because of the conflicts that arose during the making of the film. Its experimental aesthetic and focus on feminism, sexuality and collectivity ties together the issues that were being debated at EIFF throughout the 1970s. The retrospective is a wonderful addition to Black Box and a celebration of EIFF's longstanding commitment to alternative film practice."
Also premiering are two innovative features: Sixty Six, a fantasy collage of 1960s ephemera from American avant-garde icon Lewis Klahr, and Mika Taanila's bold camera-less Tectonic Plate which finds an alternative language to map an anxiety-ridden plane journey from Tokyo to Helsinki.
AU19116