Dr Rhian Hayward awarded MBE in the Queen's Birthday Honours List 2016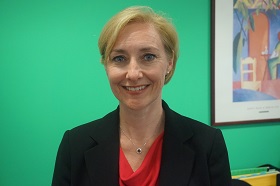 Dr Rhian Hayward
Dr Rhian Hayward, the Business Development Manager at the Department of Research, Business & Innovation, Aberystwyth University, is to be awarded an MBE in the Queen's Birthday Honours List 2016.
Responsible for knowledge exchange with the business community and technology transfer at the university, Dr Hayward has been given the MBE for services to Entrepreneurship in Wales, with the award being bestowed by a member of the royal family at an investiture during 2016.
Dr Hayward's contributions to entrepreneurship in Wales in particular are a combination of her work at Aberystwyth University in addition to her public appointment roles . These include being a member of the Welsh Industrial Development Advisory Board (WIDAB) - which advises Ministers and Senior Welsh Government officials on a range of issues relating to the Welsh economy - and a member of the Life Science's Bridging Fund Scientific Advisory Board.
In her role in Business Development at Aberystwyth University, Dr Hayward developed the university's strategy for external business engagement, including strategic partnerships with industry, licensing and spinning out company formation, with her team helping businesses and entrepreneurs to access training, research and development for innovative products and services and introductions to build networks for collaboration.
She has also been a judge on a variety of business competitions in Wales, most recently the Boost Cymru business planning competition for Life Science companies.
"I am honoured and delighted to be recognised for services to entrepreneurship in Wales. There are many hard working people focussing on our regional entrepreneurship and I am so pleased to represent their collective efforts," said Dr Hayward.
Acting Vice-Chancellor Professor John Grattan, commented: "Dr Rhian Hayward has made a significant contribution to Aberystwyth University's external engagement activities with industry and has also enjoyed great success in working to support the wider business community in Wales. I'm delighted that her contribution to entrepreneurship has been recognised in the Queen's 90th Birthday Honours List and would like to offer my warmest congratulations to Rhian on being selected for this prestigious award."
Originally from Swansea, Dr Hayward gained a BSc. (First Class) from King's College, London, and then worked in various commercial roles including project management, marketing and business development within start up and spin out companies in the south east of England, including companies such as Sense Proteomic Ltd, Procognia Ltd and Abcam plc.
Dr Hayward gained her DPhil at the University of Oxford and carried out postdoctoral research at the National Institutes of Health, U.S.A.
She moved to the Aberystwyth area in 2007 and founded a consultancy company which advised investors, universities and SMEs on the commercialisation of early stage life science technologies, helping many entrepreneurs, investors and start-up companies on business planning, fund raising and technology development.