Another step forward for a Centre of Veterinary Excellence at Aberystwyth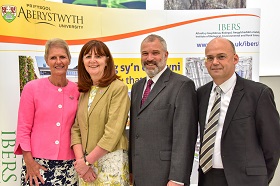 L-R Christianne Glossop Chief Vet, Lesley Griffiths AM, Professor Chris Thomas and Professor Mike Gooding
Plans to set up a dedicated veterinary training programme involving Aberystwyth University are a step closer today following an announcement by Lesley Griffiths, the Welsh Government's Cabinet Secretary for the Environment and Rural Affairs.
Aberystwyth University and the Royal Veterinary College are joining forces to develop a joint veterinary medicine programme tailored to the needs of animal health and welfare in Wales.
At the University's Institute of Biological, Environmental and Rural Sciences (IBERS) on Monday 13 June 2016, the Minister announced that Aberystwyth University and the Royal Veterinary College (University of London)had signed a memorandum of understanding to explore developing a joint venture in veterinary medical training and research in Wales, focusing on farming and livestock science. Wales does not currently have veterinary education provision.
Cabinet Secretary for Environment and Rural Affairs, Lesley Griffiths said:
"Veterinary education for Wales has long been a topic of discussion and this is an ambition now being realised. This collaboration between Aberystwyth University and the Royal Veterinary College is excellent news for Welsh farmers and to the veterinary profession. It will provide a much needed hub of veterinary expertise right in the heart of our longest established university. This project also meets many of our well-being goals, in particular contributing to a healthy, resilient and prosperous Wales".
As the oldest university in Wales, Aberystwyth has a long record of excellence in research and teaching in the fields of agriculture and animal sciences. The first teaching in the subject at Aberystwyth began in the 1870s and the Department of Agriculture opened in 1891. This continues to the present day at the award- winning internationally recognised Institute of Biological, Environmental and Rural Sciences (IBERS) which introduced a new degree in Veterinary Biosciences in 2015
Established in 1791 the Royal Veterinary College, London is the oldest veterinary school in the English-speaking world. It is also one of the most prestigious, ranked as one of the top three vet schools in the world in the latest QS World University Rankings. It has renowned veterinary medicine and nursing degrees at undergraduate and postgraduate levels as well as world-leading research.
Professor Chris Thomas, AU Pro Vice-Chancellor for Research who is leading the project at Aberystwyth said: "We share the ambitions of the veterinary profession, Welsh Government and the farming industry to secure and enhance animal health in Wales and beyond. We believe Wales needs a model for vet training and science that not only emphasises production animal veterinary medicine but also integrates veterinary service provision, agricultural science, rural community wellbeing, economics and environmental sustainability. Developing this vision in partnership with the RVC is very exciting indeed'.
Professor David Church, RVC Vice-Principal for Learning and the Student Experience who is leading at London said: "Aberystwyth University is one of the leading Universities in the UK with internationally recognized expertise in animal and agricultural sciences. We believe there are real opportunities at numerous levels for The Royal Veterinary College to work with Aberystwyth in developing a veterinary degree programme tailored to the needs of the Welsh farming and animal health industries. We are both proud and excited to be part of this collaborative venture.
Professor Christianne Glossop, Chief Veterinary Officer for Wales said: "A joint veterinary training programme between Aberystwyth and the RVC would be an excellent development for Wales, increasing the number of professionals in veterinary medicine tailored for our needs, and providing a hub of veterinary excellence of direct relevance to Wales."
Professor Julie Williams, Chief Scientific Adviser for Wales said "This is an exciting prospect, not only for veterinary medicine in Wales but also providing a focus for research and commercial development in a sector so important to the Welsh economy."
A working group of experts from IBERS and RVC will now design the joint programme and specify new facilities at Aberystwyth University. The team is due to deliver their report to the governing bodies of both institutions by August 2017.