Welsh team makes Antarctic discovery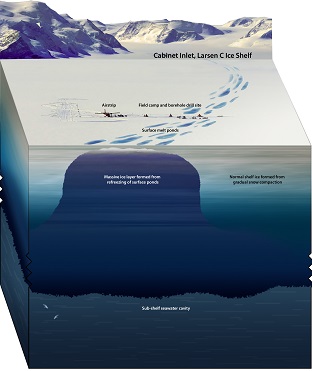 An artist's illustration of the Larsen C Ice Shelf
An international research team led by academics from Aberystwyth and Swansea Universities has today published a significant piece of research that sheds new light on one of our greatest natural phenomena. The formation of ice shelves has often been considered to provide important evidence as to how our climate has and will develop. Until recently however it has been extremely difficult to gather valuable data due to the inhospitable landscapes of the ice shelves themselves.
The team of researchers, made up largely from the Welsh universities, organised a drilling expedition to one of the largest ice shelves in the Antarctica known as Larsen C - a floating ice shelf that is approximately two and a half times the size of Wales. Working with the logistical support of the British Antarctic Survey, they were able to establish a base on the shelf and carry out the work which provides vital information on the response of ice shelves to a warming climate for current and future research.
Professor Bryn Hubbard, Director of the Centre for Glaciology, Department of Geography and Earth Science at Aberystwyth University, explains the difficulties of reaching the ice shelf in the first place.
"These kinds of places are by their nature inhospitable, with sub-zero temperatures and difficult conditions underfoot. As a result, landing aircraft there with our research equipment and support teams is a very tricky business. We were very fortunate to get the co-operation of the British Antarctic Survey Air Unit and Field Guides as their expertise was invaluable in ensuring the success of the project as well as our safety."
It had always been thought that ice in such structures forms gradually about 50-60 metres down into the ice shelf, but once the Welsh team started drilling they struck the ice at a depth of only three metres. This in itself was an important finding according to Professor Hubbard.
"I think it's fair to say that we were all surprised when we hit the ice so quickly as it completely contradicted our previous conceptions of how ice forms within the shelf. We believe that climate change has played a role in this due to the particularly strong warming this part of Antarctica in particular has experienced in recent decades.
"However, more important is how this information will help us with our future computer modelling work and understand how such structures will evolve under predicted future climate-change scenarios. It is potentially a ground-breaking discovery for the structure of ice shelves across Antarctica."
The research team spent over two months on the ice shelf gathering information in temperatures that ranged between -5 to -20 degrees Celsius. In addition to the Aberystwyth and Swansea teams, there was also a north Wales presence as the specialist equipment used to collect high-resolution images from the holes is made by Deganwy-based firm, Robertson Geologging.
The research findings are published today (10 June 2016) in the respected open access science journal, Nature Communications.
Professor Bryn Hubbard was recently awarded the prestigious Polar Medal, joining an illustrious list of recipients that includes Captain Robert F Scott, Sir Ernest Shackleton and Sir Edmund Hillary.