New research aims to support women in gaining the confidence to 'break the glass ceiling'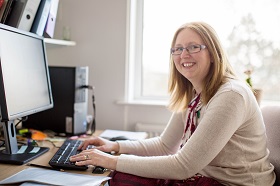 Saffron Passam
A research project aimed at breaking down the barriers for women aspiring to the top of the civil service has been announced this week. The study is the result of a key partnership between Aberystwyth University's Psychology Department and the Home Office in Wales as they agree to work together in order to pinpoint and eliminate barriers to aspiration in women specifically from lower socio-economic backgrounds.
Wales has a long history of supporting diversity through widening access programmes, but while there have been advancements for women as a whole and those from black and ethnic minority backgrounds, this progress has not yet succeeded in pinpointing those from more disadvantaged backgrounds.
According to Saffron Passam from Aberystwyth University's Psychology Department, this important and valuable work could pave the way for new opportunities for women in the future:
"We know the civil service is committed to the principle of recruitment on merit, but research shows that people from the poorest backgrounds are under-represented in their Fast Stream programme. In addition, The Sutton Trust report, Leading People (2016), has found that only 23% of senior civil service employees attended a comprehensive school, and only 7% attended universities outside the top 30.
"Our aim with this new project is to identify the barriers for women from these groups, and consider how they can be overcome most effectively."
As part of the research project, Aberystwyth University students from lower socio-economic backgrounds will participate in activities designed to explore barriers that can hamper career development. Later phases of the project will also engage with employees from the Home Office and students attending Aberystwyth Summer University and AberForward programmes.
Joanne Hopkins, Head of the Home Office Wales Team and senior sponsor of Home Officer Gender Equality Network, added:
"This is an important study that will help us better understand the obstacles faced by women from lower socio-economic backgrounds, preventing them from entering the civil service and progressing to senior leadership. The unique psychological approach we are taking forward here will enable us to look at social mobility from a new perspective, and support the civil service in achieving one of its diversity priorities."
The project's findings will contribute to UK policy development, which aims to increase the numbers of women from disadvantaged backgrounds joining the civil service, tapping into the unique skills and potential of this group.