Iestyn Tyne wins Urdd Eisteddfod Crown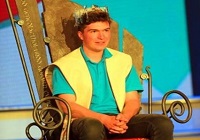 Iestyn Tyne. Credit: Urdd Gobaith Cymru
Congratulations to Iestyn Tyne, a first year student from the Department of Welsh, on winning the Crown at this year's National Urdd Eisteddfod in Flintshire.
Iestyn who is originally from the Lleyn Peninsula won the prestigious award for his seven pieces of literature and micro literature following the trials and tribulations of Adar and his family of refugees, Andy who is a cross-dresser by night and Alize, who meets a suicide-bomber in Paris.
The theme of the competition this year was 'Gorwelion' (Horizons), and the adjudicators Aled Lewis Jones and Jane Jones Owen felt that his work was a "dazzling volume of work with numerous contemporary and current horizons"
The Urdd Eisteddfod crown is awarded for the best piece or pieces of literature over 4,000 words and there were 14 entries this year.
Speaking of Iestyn's work, the adjudicators said, "His collection of stories is full of people that live on the edge of society and as a result of the author's talent, we can relate to their situation. We are presented with a brilliant variety of situations and tones, with a high standard throughout. We both felt that this variation within the work would be appealing to younger readers, and attract a new audience to read Welsh literature as a result of the interesting variety of horizons."