Latest Edition of Annual Student Magazine Y Ddraig published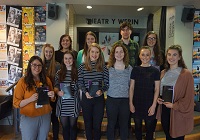 The Professional Welsh students who contributed to Y Ddraig with UMCA president Hanna Merrigan and Dr Rhianedd Jewell
The latest edition of the annual student Welsh-language literary magazine y Ddraig was published last week. It is produced in editorial board form by first year Professional Welsh students y Ddraig and is a chance for students to develop valuable skills by commissioning contributions, editing content and marketing the product.
Dr Rhianedd Jewell, lecturer in Professional Welsh at Aberystwyth and said: "This is the fifth edition of the magazine since its revival as part of the Professional Welsh course. The content this year is once again very varied with poems, short stories, and reviews by students and staff of the University. This edition also features interviews with Welsh authors Sian Rees and Sonia Edwards, in addition to poems by Gruffudd Antur and Eurig Salisbury."
Hanna Merrigan, President of UMCA, Aberystwyth's Union of Welsh Language Students officially launched this year's edition. Hanna graduated in Professional Welsh last year and has first-hand experience of editing y Ddraig. She said: "The Department of Welsh has given the basis for me to develop the skills needed to work in today's Wales, and I'm sure that this year's students will agree with me that they've developed a huge number of skills whilst creating the magazine. It's obvious from reading this year's edition that the students who live through the medium of Welsh in Aberystwyth are having a great time, and it's brilliant that the Department gives a platform for students to start their professional journey through publishing Y Ddraig annually."
The Department of Welsh will host this year's Professional Welsh Conference on the 8th of October. Aimed at sixth formers, the event will offer taste of the Professional Welsh degree which teaches valuable skills for the workplace. The conference is free of charge and is open to sixth formers. For more information or to register for the conference, please contact Dr Rhianedd Jewell on 01970 628539 / rmj15@aber.ac.uk
AU17316