Aberystwyth University mooters head to the Supreme Court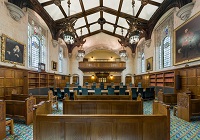 Interior of Court 1 at the UK Supreme Court. Photo by David Iliff. License: CCBY-SA 3.0
Students from Aberystwyth University's Department of Law and Criminology are being given the opportunity to demonstrate their advocacy in front of a Supreme Court Justice.
Aberystwyth is one of twelve graduate law schools and university law societies that have been invited to hold the final of their internal mooting competition at the UK Supreme Court in London.
In a moot, two pairs of advocates argue a fictitious legal appeal case in front of a judge in mock court proceedings. Success does not necessarily result from winning the legal case, but rather from the quality of the presentation of the legal arguments.
After participating in several rounds of mooting over the course of the year, the finalists in the Aberystwyth University Internal Mooting Competition are: Jake Moses (2nd year LLB Law), Petranka Malcheva (3rd year BA Law with International Politics), Madeleine Griffiths (2nd year LLB Law) and Sean Kane (3rd Year LLB Law).
The final, which takes place on Wednesday 27 April, will be judged by The Right Hon Lord Hughes of Ombersley, Justice of the Supreme Court. The winner of the competition will be invited to attend a mini-pupillage at Iscoed Chambers in Swansea.
Second year law student Jake Moses, from Knighton in Powys, who will be representing the defendant at the moot, said: 'I am sincerely grateful to Aberystwyth University and in particular to the Mooting Society for presenting this opportunity. It truly is a once in a lifetime experience.'
Professor John Williams, Head of the Department of Law and Criminology at Aberystwyth University commented: 'We are immensely proud of the departmental Mooting Society. It plays an important part in the life and work of the Department. Over the years, the Society has enjoyed many successes in national and international mooting competitions, including being the current Welsh champions. Its members work hard to promote the value of mooting and advocacy to students at all stages of their studies at Aberystwyth. We are very proud that the final of our internal mooting competition will be held at the Supreme Court in London. It will be a wonderful experience for the finalists, and I wish them all the best.'
Aberystwyth University Mooting Society is open to all students of the Department of Law and Criminology. The society provides members with the opportunity to develop their mooting skills through a series of training workshops and mooting competitions.
AU13516