Aberystwyth University student shortlisted for Undergraduate of the Year Award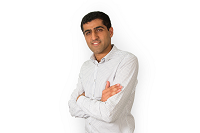 Mazhar Shar
Aberystwyth University Computer Science student, Mazhar Shar, has been shortlisted as one of the ten finalists for Targetjobs Undergraduate of the Year award for Computer Science and Analytics.
An annual awards competition, Targetjobs Undergraduate of the Year identifies and celebrates the UK's brightest undergraduates through twelve categories of award, each sponsored by a different company. Prizes include work placements and exclusive overseas trips.
The Computer Science and Analytics award, sponsored by Expedia, is awarded to somebody who has a curious mind and the courage to challenge the status quo, and can demonstrate a focus on innovation and a passion for seeking new opportunities.
The prize is a one-week trip to Expedia's headquarters in Seattle to join one of its US-based tech teams, and to attend the Expedia CEO's interns barbecue lunch.
The application process is lengthy and demanding, involving a situational judgement test, occupational personality questionnaire, inductive reasoning test, group exercise, and interview.
Originally from Faridabad, Pakistan, and raised in Bristol, Mazhar is in his third year of a four year sandwich course in Computer Science at Aberystwyth University.
In his first year he attended Kainos AppCamp and subsequently had an app published in the iOS App Store. The app, Lift Me Up, is aimed at boosting happiness and promoting mental health awareness.  It allows users to log and track moods and feelings, and offers inspiration through messages and quotes relating to the user's mood. 
Having spent his second year studying at the University of Ottawa (Canada), Mazhar is now on on his Year in Industry with DCA Design International Ltd in Warwick working as an Embedded Software Engineer.
Mazhar said: "Being shortlisted for this award serves as a source of affirmation that at least some of what I am doing is beneficial and progressive. That's important to me because my actions and attitude determine my success, and my effectiveness as anexample to others.
"Being selected to be in the final ten for this award is a result of the help and support I have received along the way, and the opportunities presented to me in Bristol, Aberystwyth, Canada and elsewhere.
"I think many people perceive achievements like this as out-of-reach. However the process is perfectly applicable to anyone. In fact, I initially gave up and almost didn't apply."
Dr Bernard Tiddeman, Head of the Department of Computer Science, said: "Clearly we are delighted that Mazhar has been shortlisted for this award. Mazhar is an outstanding student, excelling in his first year with us in Aberystwyth and continuing his first class performance in his second year, which he spent studying at the University of Ottawa. As a student who only learnt to programme in his first year in Aberystwyth he has an impressive track record - in addition to his excellent academic grades he has developed his own app and participated with the department's AberSailBot team in the World Robotics Sailing Championship. He is a great example of some of the excellent students that we have in the department, and we wish him the best of luck with this award."
The Undergraduate of the Year Awards Ceremony takes place this afternoon (Friday 22 April) at Canary Wharf, London. Finalists will have the exclusive opportunity to network and dine with graduate recruiters before the winners are announced by television presenter Fiona Bruce, who is hosting the award ceremony.

AU14316