Arts Centre takes Saturday Night Forever to the Edinburgh Fringe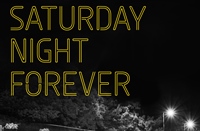 Following an acclaimed tour at the end of 2015, this summer, Aberystwyth Arts Centre, in partnership with Joio, will staging Welsh playwright Roger Williams' play Saturday Night Forever at Underbelly's COWBARN, at the Edinburgh Fringe Festival 2016.
The play will be directed by Kate Wasserberg, Artistic Director and founder of Cardiff's pub theatre, The Other Room.
This is the production's second Arts Council of Wales grant, following an initial producing and touring grant awarded last year to develop the piece.
Saturday Night Foreveris a roller-coaster ride through Cardiff's night-life, as Lee, a gay man in his thirties living in the heart of the city, breaks up with one lover and resolves never to fall in love again. All around him people are drinking too much, dancing until the early hours and getting it while they can.
But when Lee receives an invitation to a friend's house-warming everything seems ripe for change, and it only takes seven hours, a bottle of vodka, and the devil on his shoulder for him to break his promise and fall back into the arms of a new admirer. For a short while life is sweet, but after every Saturday night comes the cold reality of Sunday morning, and as Lee cruelly discovers, nothing lasts forever.
The play is written by award winning writer Roger Williams, who is well known for his work in television and theatre. His work for TV includes the Bafta-nominated Tales from Pleasure Beach (BBC2), Hollyoaks (C4) and Gwaith/Cartref (S4C).
Most recently he created the drama series Tir for S4C, for which he has recently been nominated for a BAFTA Cymru award for best writer. 
He previously won a BAFTA Cymru award for screenwriting for his work on the Welsh language drama series Caerdydd in 2010.
His plays have been performed around the world, and he has also written radio plays for Radio 4, Radio Wales and Radio Cymru.
Saturday Night Foreverwill be directed by Cardiff pub theatre The Other Room's Artistic Director and founder Kate Wasserberg. Kate said: "Saturday Night Forever is a hilarious, romantic, dark, beautiful story of love lost and love found. The show is using cutting edge technology to create an animated, interactive environment for the actor to inhabit and features an original soundtrack drawing inspiration from dance music and real recordings from the night-time streets of Cardiff. At the centre of it all is brave and brilliant writing from one of Wales's major theatrical talents. A love story for modern times with a razor's edge - I am so excited to bring it to a new audience."
Saturday Night Forever, which is touring with support from Arts Council Wales, will preview at Chapter Arts Centre, Cardiff, from the 27 -30 July 2016, and then plays at Underbelly's COWBARN at the Edinburgh Fringe Festival throughout August. For more details and ticket information, visit Aberystwyth Arts Centre website here.
Aberystwyth Arts Centre
Award winning Aberystwyth Arts Centre is Wales' largest arts centre and recognised as a 'national flagship for the arts'. It has a wide-ranging artistic programme, both producing and presenting, across all art forms including drama, dance, music, visual arts, applied arts, film, new media, and community arts and is recognised as a national centre for arts development.  Aberystwyth Arts Centre is a department of Aberystwyth University and a member of the Institute for Literature, Languages and the Creative Arts (ILLCA).
AU13116