Autism experts speak at conference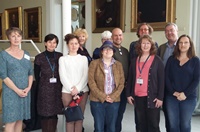 The organisers and speakers of the conference: Front row: Mary Rendell, Sian Campion, Louise Birch, Robyn Steward (presenter), Amanda Tinker, Melissa Davies. Back row: Carys James, Non Jenkins, Simon Campion, Sarah Hendrickx (presenter), John Harrington.
To mark World Autism Awareness day on Friday 1 April, Aberystwyth University hosted a one-day Autism Spectrum Conference event in partnership with Ceredigion Social Services Autism Team.
The conference was an opportunity for people on the autism spectrum, partners, parents, relatives, carers, and professionals in health services, social care and education to come together to share their experiences and learning.
John Harrington, Assistant Director of Student Support Services at Aberystwyth University explained; "This was the third annual conference in partnership with Mary Rendell from the Ceredigion Autism Spectrum Team, part of Ceredigion County Council Care, Protection and Lifestyle Services, and we were very pleased to be able to welcome people to the Old College this year."
With delegates from across Ceredigion, keynote speakers included Sarah Hendrickx and broadcaster, artist and author Robyn Steward about her experiences of education, from primary through secondary school and on to further and higher education. She focused on what staff and supporters needed to know in order to improve the experiences and outcomes of education for people on the autism spectrum, and talked about the tools and strategies that can help.
Sarah Hendrickx, an independent specialist consultant and trainer in Autism Spectrum Conditions, has a lifetime of personal experience of autism, its mental and physical impact and how to live with it, and shares this along with her professional expertise. Sarah's presentation focused on women and girls with autism, and on gender and identify.
Futher details about the conference are available here.
AU12316