Tales from Television: bringing the natural world to your living room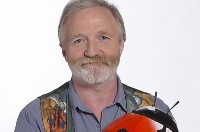 Television Entomologist George McGavin
Explorer, entomologist and television presenter George McGavin, who presented BBC Four's Monkey Plant and a regular contributor to the OneShow will be speaking at the Institute of Biological, Environmental and Rural Sciences at Aberystwyth University on Friday 19th February.
McGavin will be speaking about Tales from Television: bringing the natural world to your living room.
The lecture takes place in the main biology lecture theatre in the Edward Llwyd building on the Penglais campus with lecture starting at 7.00pm.
McGavin studied Zoology at the University of Edinburgh, followed by a PhD in entomology at Imperial College, London.
He is an Honorary Research Associate at the Oxford University Museum of Natural History and The Department of Zoology of Oxford University.
He's also a Fellow of the Linnean Society and the Royal Geographical Society, has several insect species named in his honour, and hopes they survive him.

AU5916