Aberystwyth University glaciologist awarded Polar Medal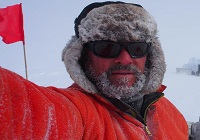 Professor Bryn Hubbard who recently spent 9 weeks drilling on the Larsen C ice shelf in Antarctica.
The Director of the Centre for Glaciology at Aberystwyth University, Professor Bryn Hubbard has been awarded the prestigious Polar Medal.
The award, announced today Friday 8 January 2016, is made in recognition of Professor Hubbard's work as a "Polar scholar in glaciology, glacial geology and the structure and motion of ice masses".
Professor Hubbard joins an illustrious list of recipients that includes Captain Robert F Scott, Sir Ernest Shackleton, who accompanied Scott during the 1902-4 expedition, and Sir Edmund Hillary and Sir Vivian Fuchs who led the Commonwealth Trans-Antarctic Expedition of 1957-8.
Instituted in September 1904 to reward the participants in Captain Robert F Scott's successful first expedition to the Antarctic region, in recent decades most awards of the Polar Medal have been made to scientists who over prolonged periods of time and in harsh conditions have worked to advance knowledge of the polar regions.
Professor Hubbard is one of three glaciologists with links to Aberystwyth University to have been awarded the Polar Medal; Professor Michael Hambrey, former director of the Centre for Glaciology, and Professor Julian Dowdeswell, former Head of the Department of Geography and Earth Sciences being the others.
Professor April McMahon, Vice-Chancellor of Aberystwyth University said: "This is a remarkable achievement and just recognition of a life dedicated to the discipline of Glaciology. Professor Hubbard and his colleagues at the Centre for Glaciology are at the cutting edge of understanding the effects of climate change on some of the Earth's most extreme and inhospitable places, and of developing the scientific models that will help us understand better how our planet is likely to respond to an increasingly warm environment. It is particularly pleasing that a member of staff at Aberystwyth University has been acknowledged in this way, and underlines the relevance of research undertaken here to some of the pressing issues faced by humankind."
Professor Hubbard said: "I am very honoured to be awarded the Polar Medal, recognising both the challenges and the importance of carrying out scientific research in our planet's polar regions, and am grateful for the support of colleagues at the Centre of Glaciology at Aberystwyth University who have made all this possible".
Professor Bryn Hubbard was born and raised locally, attending Borth Primary School and Penglais Comprehensive before going to Christ College Brecon.
His interest in glaciology developed during his time at Oxford University where he was awarded a first-class Honours degree in Geography, before going on the Cambridge University where he completed a PhD in glacier movement.
After a further two years studying Alpine glacier hydrology at Cambridge, Hubbard joined Aberystwyth University in 1994 as a lecturer in the then newly-established Centre for Glaciology.
He was appointed Director of the Centre for Glaciology in 2010 and a professorship in 2011, and is currently Director of Research for the Department of Geography and Earth Sciences and the Institute of Geography, History, Politics and Psychology.
Professor Hubbard is Editor in Chief of the Journal of Geophysical Research and a 'core' member of the Natural Environment Research Council's Peer Review College.
His research interests focus primarily on field-based measurements of glacial processes and forms, work which takes him to many of the world's most scenic - but generally cold - environments. These include Antarctica, Greenland, Arctic Canada, Svalbard, Norway, Peru, and the European Alps.
Field data collected at glaciers and larger ice masses at these locations have generally been used to improve and guide numerical, computer-based models of the response of these ice masses to current and anticipated future climate change, helping policymakers decide and implement response strategies.
His current research projects take him to Greenland during the summer and Antarctica during the (northern hemisphere) winter.
In Greenland his work involves drilling 650 m-long boreholes from the surface to the bed of a fast-moving glacier that terminates in the ocean, installing various experiments to reveal physical coupling between such a rapidly-moving ice mass and its substrate.
In Antarctica he has recently spent nine weeks camping in traditional 'Scott' tents on the Larsen C ice shelf, a floating mass of ice several hundreds of metres thick and about 2 ½ times the size of Wales. Here, he has been drilling boreholes to investigate the influence of surface meltwater ponds that form intermittently during the warm summer months on the internal structure of the ice shelf.
The consequence of these ponds is to accelerate quite dramatically the rate of formation of dense ice from fresh snow, increasing both the density and temperature of the interior of the ice shelf, a process that is likely to become increasingly important in a warming climate - and the Antarctic Peninsula is warming at one of the most rapid rates on our planet.
AU0516