Aberystwyth welcomes Coleg Cymraeg posts and provision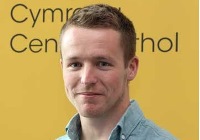 Manod Williams
Once again this year, the Coleg Cymraeg Cenedlaethol has funded more lecturers to teach in various fields at universities across Wales.
As a result, Welsh medium provision will be available at Aberystwyth University in subjects such as Bioveterinary Science and Environmental Sciences.
Manod Williams from Bow Street, who has been appointed to a Bioveterinary Science post is eager to start teaching and researching:
''I'm looking forward to giving students an option to study a wide range of Agricultural and Bioveterinary Science modules through Welsh and ensure that the Institute of Biological, Environmental and Rural Sciences becomes an Agricultural and Bioveterinary Science excellence centre for Welsh medium studies.''
Dr Marie Busfield from Cardiff has been appointed to an Environmental Science post and is looking forward to working through Welsh after studying at both Leicester University and the Royal Holloway University in London.
''I'm looking forward to returning to Welsh medium education and giving students an option of being educated in their mother tongue. I'm also eager to expand on the provision available within the university's Geography and Earth Sciences by introducing new and unique modules.''
Dr Ioan Matthews, Chief Executive of the Coleg Cymraeg Cenedlaethol said: ''We were glad to be able to support these appointments and look forward to seeing more students studying subjects through Welsh as a result of the Coleg's investment. I would like to wish them all well as they create resources and recruit prospective students over the years to come.''
AU31615