IBERS joins European sustainable packaging initiative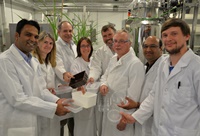 L to R: IBERS researchers working on the sustainable packaging initiative; Abhishek Somani, Ana Winters, Joe Gallager, Sian Davies (project manager), David Bryant, Stephen Taylor, Sreenivas Ravella and David Walker.
The Institute of Biological, Environmental and Rural Sciences (IBERS) at Aberystwyth University leads the consortium ADMIT BioSuccInnovate, an innovative Climate-KIC initiative funded by the European Institute of Innovation & Technology (EIT), along with Reverdia and other European partners.
The Consortium will explore with CIMV, a biorefining company, the use of locally-available lignocellulosic feedstock, such as wheat, straw or miscanthus, to produce bio-based, biodegradable plastic packaging for consumer markets in association with UK retailer Waitrose and food tray producer Sharpak.
The project is in line with Waitrose's sustainable packaging strategy and Reverdia contributes its Biosuccinium™ sustainable bio-succinic acid technology to help build a truly sustainable packaging value chain.
David Bryant, project lead at IBERS said: "IBERS plays a key role in the project by leading on the plant science and coordinating biorefining activities for the production of bioplastics from succinic acid derived from lignocellulosic sugars. We chose to work with Reverdia as they have the capacity to deliver and license high-quality Biosuccinium™ today with proven best-in-class sustainable technology that achieves the best greenhouse gas savings."
Jo Kockelkoren, Reverdia's Global Commercial Director said: "This venture builds on our market development work and partnership model that spans the entire value chain from biomass to consumer applications."
Karen Graley, manager of packaging and reprographics at Waitrose said, "The use of lignocellulosic feedstock for the production of bio-based plastic packaging from BiosucciniumTM is one of the ways we are ensuring that we tread lightly.  This project is hoped to contribute to the Waitrose sustainable packaging strategy for 2020 and beyond and endorse the partner's collaboration in making renewable packaging a commercial reality."
Martin Taylor, Managing Director at Sharpak stated, "We are pleased to collaborate with Reverdia and the other Consortium partners. It is only by working together that we can create a sustainable packaging supply chain."
IBERS
The Institute of Biological, Environmental and Rural Sciences (IBERS) is an internationally recognised research and teaching centre providing a unique base for research in response to global challenges such as food security, bioenergy and sustainability, and the impacts of climate change. IBERS scientists conduct basic, strategic and applied research from genes and molecules to organisms and the environment. IBERS receives strategic research funding of £10.5m from the BBSRC to support long term mission driven research, and is a member of the National Institutes of Bioscience. IBERS also benefits from financial support from the Welsh Government, DEFRA and the European Union.
Reverdia
Reverdia is the joint venture between Royal DSM, the global Life Sciences and Materials Sciences Company and Roquette Frères, the global starch and starch-derivatives Company.  Reverdia takes a leadership position on quality, sustainability and reliability, focusing on market and application development. Combining the knowledge and experience of DSM and Roquette, Reverdia produces, sells and licenses Biosuccinium™.
Sharpak
Sharpak has extensive experience of thermoformed Rigid Plastic Packaging. As part of Groupe Guillin, Sharpak has access to a product portfolio of over 10,000 tray types and technologies which are spread across 18 European markets. Investing in the future of our customers and employees has enabled us to become Europe's number one manufacturer of Rigid Plastic Packaging. We are committed to delivering packaging solutions to our customers and continually seek to provide a first-class service. Never losing sight of practicality, we combine innovation with experience to provide packaging solutions with impact.
AU23915