Callum and the chocolate genebank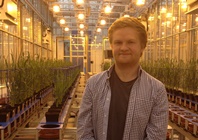 Callum Scotson in the National Plant Phenomics Centre, IBERS, Aberystwyth University
IBERS plant science student Callum Scotson is studying at the University of the West Indies (UWI) in Trinidad this month, having been awarded funding by the Tropical Agriculture Association (TAA) to complete his undergraduate dissertation research on cacao flowers.
Currently completing the second year of his undergraduate degree in Plant Biology at Aberystwyth University's Institute of Biological, Environmental and Rural Sciences (IBERS), Callum applied for the TAA International Study Award, which is only open to postgraduate students.
The TAA made an exception in granting Callum this award as an undergraduate student on the strength of his research subject and proposal. This was supported by Professor Mike Gooding Director, and John Warren Professor of Botany at IBERS, who himself formerly worked as a cocoa breeder at the International Cocoa Genebank in Trinidad.
Callum is in Trinidad throughout June and is based at the UWI's Cocoa Research Centre. His research follows on from previous studies which have found that flowers which grow from the trunk of the cacao tree yield more cacao seeds than the flowers which grow from its branches.
Callum's research will involve looking at different varieties of cacao tree using the centre's International Cocoa Genebank (a genetic catalogue containing approximately 2000 varieties of cacao trees) in order to identify varieties which produce higher ratios of flowers from their trunks than their branches.
The findings of Callum's study would allow growers to select varieties with more trunk flowers, which could significantly improve cacao yield and chocolate production.
Callum aspires to go on to study for a PhD in crop science, ideally working with a tropical crop.
He said "The Award will enable me to travel to the University of the West Indies, Trinidad, to perform hands-on research utilising one of the most extensive collections of the globally important crop cacao in the world.
I hope that the experience I gain from this unique opportunity will not only help to develop my confidence and research skills but will also help me to stand out from other applicants when applying for postgraduate studies in the future."
Professor John Warren who is also Director of Learning and Teaching at IBERS, said: "The TAA award is a great opportunity for Callum. It offers him the chance to gain valuable experience working in the International Cocoa Genebank, doing some potentially significant science and having great fun at the same time."
On his return from the West Indies, Callum will begin a seven-week summer internship working with Professor John Doonan at IBERS' National Plant Phenomics Centre for which he was also recently awarded funding from the British Society for Cell Biology (BSCB).
This project will seek to transfer the use of CT scanner technology from medical research into the world of plant science.
Callum concluded "The success of these award applications would not have been possible without the continued support and encouragement I have received from many members of staff at IBERS. I would like to thank the TAA and BSCB for their generosity and support."
IBERS
The Institute of Biological, Environmental and Rural Sciences (IBERS) is an internationally recognised research and teaching centre providing a unique base for research in response to global challenges such as food security, bioenergy and sustainability, and the impacts of climate change. IBERS scientists conduct basic, strategic and applied research from genes and molecules to organisms and the environment.
IBERS receives strategic research funding of £10.5m from the BBSRC to support long term mission driven research, and is a member of the National Institutes of Bioscience. IBERS also benefits from financial support from the Welsh Government, DEFRA and the European Union.
AU20815