Vanishing Glaciers of Everest at the Royal Society Summer Science Exhibition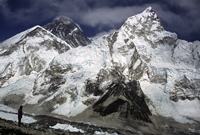 Glaciologists from Aberystwyth University are joining colleagues at the Universities of Sheffield, Leeds, Northumbria and Hertfordshire to showcase their research at the Royal Society's prestigious 2015 Summer Science Exhibition in London, 30 June – 5 July.
The team has built an exhibit that focuses on how the glaciers around the world's highest mountain (Mt. Everest, 8848m), are rapidly shrinking.
Using striking photographs, video footage from expeditions to the Khumbu, Imja, Lhotse and Ngozumpa Glaciers in Nepal combined with hands-on experiments using blocks of ice and 3-D models, the team will explain how glaciers in the Himalaya are responding to climate change and why this is important for humanity.
The 16-strong team includes a mix of academic staff, postgraduates and mountaineers, all of whom share an interest in the state and fate of glaciers in the Himalaya. Leading the team is Dr Ann Rowan of Sheffield University, formerly a post-doctoral research fellow funded by C3W at Aberystwyth.
She is joined by Professor Neil Glasser, Professor Michael Hambrey, Dr Tristram Irvine-Fynn and Morgan Gibson from AU's Centre for Glaciology. Other team members with a Centre for Glaciology connection are: Dr Duncan Quincey (former PhD student and Lecturer), Owen King (former Master's student), both now at the University of Leeds, and Dr Matt Westoby (former PhD student) from Northumbria University.
Also joining the team are David Breashears from Glacierworks, a renowned American mountaineer and filmmaker who has attained the summit of Everest four times, and Mollie Hughes, one of the youngest British climbers to reach the top of the world.
Professor Hambrey commented: "Our fieldwork on the Khumbu Glacier 12 years ago, followed up by further fieldwork by our postgraduates, and combined with analysis of satellite imagery, has clearly demonstrated that this glacier and its neighbours are wasting away rapidly. This is taking place in a way that allows potentially dangerous glacial lakes to form. Also, the recent earthquakes have highlighted how vulnerable the people of Nepal are to landslides. Himalayan glaciers provide water to 1.3 billion people in Asia, so are a vital, but diminishing resource. We want to find out why these glaciers are changing so rapidly in response to climatic warming, and obtain better data so we can predict changes more accurately."
The team are keeping exhibition visitors updated about glacier-related news from the Everest region, and our progress during the exhibition. They are giving details of the times of special events, and when visitors can meet our mountaineers, David and Mollie, using Twitter (@EverestRSSSE) and Facebook (facebook.com/EverestRSSSE). 

The team has produced a short video, featuring Neil Glasser, Tris Irvine-Fynn and Morgan Gibson on YouTube, to explain the purpose of the research https://www.youtube.com/watch?v=k9WOV1gK0LU.
Also, a series of around 100 photographs and explanations of glaciers around Mt Everest have been placed on the educational website 'Glaciers Online", http://www.swisseduc.ch/glaciers/himalaya/khumbu/index-en.html.
Sponsorship of this exhibit is provided by the Natural Environment Research Council, the Climate Change Consortium of Wales, the Quaternary Research Association and the five Universities involved.
The Royal Society Summer Science Exhibition is a week-long science festival which features 22 exhibits from the forefront of British innovation. Visitors can meet the scientists behind cutting edge science and technology, exploring everything from cancer cells to plasma rockets, not to mention glaciers. It's free entry for all ages and runs from Tuesday 30th June to Sunday 5th July 2015. For more information visit the website.
For further information about the Royal Society Summer Science Exhibition please contact Nicola Kane in the Royal Society Press Office on 0207 451 2508 or nicola.kane@royalsociety.org.
A press preview will be held on Monday 29 June 2015.
Summer Science Exhibition opening times: The Exhibition is located in the Royal Society, 6-9 Carlton House Terrace, London, SW1Y 5 AG and takes place from Tuesday 30 June to Sunday 5 July 2015. Open Tue 30 June 10am - 9pm; Wed 1 July 10am - 5pm; Thu 2 July 10am - 5pm; Fri 3 July 10am - 8pm; Sat 4 July 10am - 6pm; Sun 5 July 10am - 6pm. Note: Last entry is 30 minutes before closing time. The event is FREE and open to the public. Further information can be found at: http://sse.royalsociety.org/2015 . Twitter Hashtag: #summerscience
The Royal Society is a self-governing Fellowship of many of the world's most distinguished scientists drawn from all areas of science, engineering, and medicine. The Society's fundamental purpose, reflected in its founding Charters of the 1660s, is to recognise, promote, and support excellence in science and to encourage the development and use of science for the benefit of humanity.
The Society's strategic priorities are: Promoting science and its benefits; Recognising excellence in science; Supporting outstanding science; Providing scientific advice for policy; Fostering international and global cooperation; Education and public engagement.
AU6015